Soldiers in Alpha Company, First Platoon, were fanned across the lumpy Kansas landscape that's a piece of Fort Riley.
Some were on their stomachs, half-hidden in shin-high grass and others rested on one knee. All carried loaded, automatic weapons and wore 16-pound Kevlar vests lined with bullet-proof ceramic plates. They were flanked on either side by a half-dozen idling Humvees bristling with 50-caliber machine guns that can make a grapefruit-sized hole in a cinder block wall.
"Moving," crackled a voice over a two-way radio.
The sharp sound of gunfire sliced across the fields as soldiers jumped to their feet and began running in staggered elements toward a group of plywood structures built to represent a village. The buildings were fake, but the gunfire was real.
Lt. Col. Tom Hollis, commander of the 1st Battalion, 16th Infantry Regiment, calmly watched the proceedings and made notes in a bound journal. He's 43, from McLean, Va., and is in his 19th year as a commissioned Army officer. He and his wife, Catherine, are parents of five daughters. Aside from his military education, the Bronze Star Medal recipient has two university degrees, a bachelor's and master's of science.
During an afternoon, four separate platoons worked their way through the "village." They were in steady radio contact with one another - ": Building three secure. :" ": We're crossing over now. :" - sometimes sprinting and other times slowly working their way, pressed tightly against the walls, through the compound.
"We're doing this same training with the Iraqi Army," Hollis said.
After each platoon finished a sweep, their leaders met in a nearby tent and examined their performance with Hollis and his staff.
Photo Gallery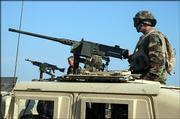 Training for Iraq
These Fort Riley soldiers will "fight" their way through this village many times between now and late fall, when they're scheduled to deploy to Iraq. For many it'll be their second tour.
"Platoons maneuvering around fields in live fire conditions is probably the most important element in readying our soldiers to go back to Iraq," Hollis said.
He should know. He spent a year in Iraq, returning to Fort Riley last September.
The war in Iraq is no longer an armored battle fought in tanks or so much from the air.
"It's largely interurban operations," Hollis said.
That's military speak for coalition and Iraqi troops going house-to-house and building-to-building looking for the bad guys, referred to as insurgents.
"Some of the so-called insurgents are nothing more than common criminals taking advantage of a bad situation : to rob, steal and kidnap," Hollis said.
The Army calls the plywood village exercise MOUT, Military Operations in Urbanized Terrain.
Hollis believes his battalion's time spent at Fort Riley will make it more proficient when it arrives in Iraq.
"We'll use this time to rebuild our teams as we get new soldiers and lose soldiers who rotate out of the service," he said. "We'll start at ground zero and build up our vehicles, weapons systems and will have better trained soldiers by the time we're ready to deploy.
During the year that Hollis and his troops fought in Iraq, they worked with the 82nd Airborne to organize a unit of the Iraqi National Guard.
"We were involved in recruiting, outfitting and training," he said. "They were 'good soldiers.'"
He believes that the involvement of Iraqi troops will be a "tremendous" help in the war.
"Preparation and executing is not that different among soldiers from nation to nation," Hollis said. "What we're good at is planning and getting into the details, the 'what-ifs' and that's what we're teaching the Iraqis."
He said he hears from his military friends that Iraqi troops have made quantum leaps since he was last in Iraq.
"We are fighting forces that 'chamele,' changing (like a chameleon) from a 'citizen' walking down a crowded street, who the next minute is the man firing an RPG (rocket-propelled grenade) at you. They're not a uniformed enemy and they have lots of places to hide," he said.
He believes this is where the new Iraqi Army will be an enormous help in the fight against insurgents.
"They have the advantage of knowing the language and culture of the people we're fighting and of the people we're trying to free."
Col. Bart Howard, commander of the 1st Brigade, 1st Infantry Division at Fort Riley, is Hollis' boss and agrees with his assessment. He'll be leaving for Iraq this fall.
"We are truly handing over areas to the Iraqi Army and the mission will evolve with more positive things, more emphasis on Iraqis securing themselves," Howard said.
He said plans were in place for American troops to do fewer door-to-door operations.
Hollis said he believed there are many positive things happening in Iraq that most Americans don't hear about.
"We've either rebuilt or built 69 schools," he said. "These are projects that will keep on giving for years to come, especially now that Iraqi teachers are getting paid to teach full time."
Many U.S. soldiers have contacted their hometown schools and have arranged for them to send school supplies for Iraqi children.
Hollis said more than 600,000 houses in Iraq now have running, drinkable water, and military medical buses travel to villages to treat the ill.
"A country thousands of years old has good water coming into their homes for the first time. : We think these things are neat," he said.
"Our battalion has done a lot of work, and there is lots of pride in what we've done."
Nearly 1,700 Americans have died in Iraq.
"When you spend a year at war you try to find some things that make sense of it all," the somber battalion commander said.
He talked about losing friends in combat and telling family members they'll no longer have a father.
"You have to grab onto something that says it's worth it," he said. "You cannot imagine unless you've been over there just how oppressed these people were."
"The insurgents are banking on America losing heart, but Americans know that freedom is priceless," he said. "This is true liberation."
In their own words
Spc. Jeremy Starcher, 23, Columbus, Ohio: "I worked in communications, stationed in Ar Ramadi, Iraq, for a year. It's crazy, like nothing I've every seen. You never knew when something was going to happen. Rockets, mortars come in, insurgents going crazy sometimes. It was scary, more than a little. When we got there the area was all run down, kids threw rocks at us, called us names. We started building schools for them and playing with them, gave them food and by the time we left they loved us. They'd tell us when the enemy was nearby. It was progress and that's what kept me going. I'll be heading back in the fall. I love what I do, working with satellites, computers, all kinds of fun stuff."
Spc. Ryan Savage, 22, Elk Rapids, Mich.: "Went to Iraq out of Germany with the 1st Armored division. I got extended for 15 months. It was great getting to see the other side of the world and actually helping another country get better. It's a good feeling. I'll be going back to Iraq. Married with one small child."
Sgt. Phillip Russell, 34, Bronson, Texas: "I was a grunt in Ar Ramadi. I also make sure all of the 'pro masks' are combat ready, radiation equipment is operational against anything that can be used as a weapon of mass destruction. Nowadays it can be most anything. I understand what we're trying to do, secure the area and all routes so people can come and go without getting killed. What you read in the newspaper when you were there and what you saw going on didn't correlate. I went on some foot patrols and worked in the company command post during the night and monitored everything going on in the company with soldiers on patrol. It's not a good thing to listen to a fire fight over the radio. Worse than chaos. It's like listening to a 911 call without being able to do anything to help. There's only so much you can do over the radio."
Spc. Andrew Sosnick, 20, San Francisco: "I'm an Infantry soldier. I drive a Bradley fighting vehicle - kind of fun sometimes. I was glad to have it because it took explosions pretty well, good machine, swear by it. I do patrols, convoys, raids, and go up and down the streets and wait for trouble. Seemed like more happened at the end of the month. Maybe it was payday. I was in Iraq December to last September and will go back this fall. The Middle East is charming, ancient, Fertile Crescent. And at the same time they haven't gone very far since 3000 B.C. It's sad to watch a 5-year-old girl rolling a 40 pound propane tank down the street."
Copyright 2018 The Lawrence Journal-World. All rights reserved. This material may not be published, broadcast, rewritten or redistributed. We strive to uphold our values for every story published.