Some ceramic wares that were deliberately made to look like cloisonne enamels from Asia could fool a beginner. The Longwy factory of France started making pottery in 1798. In 1872, it began producing pottery that mimicked the very popular enameled metal vases being made in China. Instead of using metal "fence" outlines like true Chinese cloisonne, Longwy developed a method of putting a black printed outline on the pottery after the first baking to hold the enamel colors in place. The French firm hired an Italian artist who had worked in Japan to be sure the designs were similar to those used in cloisonne. Longwy's pottery was an immediate success. By 1912 Longwy wanted to update its wares, so it produced enameled vases and plates with geometric art deco designs as well as the Chinese dragons and trees of earlier pieces. The company stopped production during the war years, from 1914 to 1918, but started again after World War I. Longwy is still working.
Q: I have a hand-tooled leather handbag that belonged to my mother when she lived in Nebraska in the late 1920s. It's 7 inches wide and 6 1/2 inches high, with a hinged metal frame and a clasp and lock at the top. The strap handle is short, and all the edges are laced. The ornate tooled design includes a pair of hummingbirds on both sides. The handbag is branded "Meeker" on the leather lining. Can you tell me anything about Meeker and what the bag is worth? It's in excellent condition.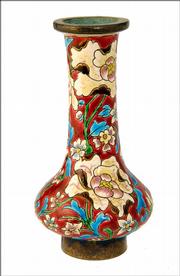 A: Meeker Co. was located in Joplin, Mo. It was a well-known manufacturer of hand-tooled leather handbags, which were popular from about 1900 into the late 1930s. The bags' Arts and Crafts designs were stylized, and laced edges were common. The purses came in various styles and sizes. Most of the tooling and lacing were done by hand. A company whose mark was "Jemco" supplied most of Meeker's purse frames. Meeker bags are very collectible. Yours could sell for $500 or more. Factories in the early 1900s also produced less-expensive bags made of leather or faux leather with embossed, not hand-tooled, designs.
Q: I'm writing because I'm concerned about using old dishes that might have lead glaze. I have been buying single pieces of American-made restaurant china online. Some of it's old, and some is new. I want to use the bowls and plates as my everyday dishes, but how can I tell if any of the dishes have lead glaze? When did manufacturers stop using it?
A: Almost all everyday ceramic dishes produced in the United States before 1980 were covered with a glaze that contained lead. That's because a lead glaze produces a shiny, smooth, attractive surface. The U.S. Food and Drug Administration started testing dinnerware for lead in the early 1970s. In 1980 it set limits on lead in ceramic ware, and in 1991 the limits were tightened. That doesn't mean older dishes aren't safe; if they were fired at a high temperature for a long period and if they're not cracked, chipped or worn, the lead is sealed into the glaze and won't leach onto the surface. Many experts think it's OK to eat off old dishes if the food is not highly acidic, but that it is not safe to use the dishes to store or cook food. Others suggest that you buy a lead-testing kit at a hardware or home-improvement store - but the tests aren't very reliable at detecting low levels. If you want to be extremely careful, eat off dishes made after 1980 and display older ones. One other tip: Don't eat off highly colored and glazed ceramic or terra-cotta dishes made in foreign countries or by craftspeople here. Although U.S. Customs officials check imported ware, they don't check every piece.
Tip
No commercial furniture polish will damage the finish of furniture. Eventually the polish will wear off or be wiped off. However, some homemade remedies are damaging. Do not use boiled linseed-oil mixtures.
Copyright 2018 The Lawrence Journal-World. All rights reserved. This material may not be published, broadcast, rewritten or redistributed. We strive to uphold our values for every story published.