Ciudad Juarez, Mexico — Grappling with a wave of kidnappings and murders, including the brutal slayings of two small children, authorities in the border city of Juarez are recruiting people over 60 to patrol outside elementary schools.
They hope this unarmed "policia adulto mayor," or elder police force, will gain the trust in a city whose police force is widely seen as corrupt.
The elders are armed only with a cell phone and a uniform of black pants and a yellow shirt with a state police logo.
They work in pairs outside their neighborhood elementary schools, watching for suspicious activities and alerting police to any problems. On the weekends, they patrol Ciudad Juarez's three biggest public parks.
"What we want is to have police who are close to the people and at the same time learn about the problems in each community," said Gustavo Zabre, director of Preventive Police for Chihuahua state, where Ciudad Juarez is located.
Some 300 people applied for the jobs, but only 35 retirees ended up patrolling in Ciudad Juarez, a city of 1.3 million across from El Paso, Texas, where crime is as common as police corruption.
The group was sent to a police academy for two weeks to learn observation and description techniques and to receive first aid and physical training.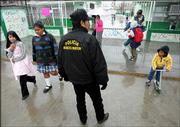 Ciudad Juarez has become the focus of international attention because of a string of killings against women.
Juarez residents have become inured to the killings and drug-related violence that have tormented them for decades. But the recent brutal killing of two girls, ages 7 and 10, prompted thousands to take to the streets in protest.
Last month, the body of 7-year-old Airis Estrella Enriquez was found in a barrel filled with cement and abandoned in the desert surrounding the city.
Police said Airis, who disappeared on her way to a neighborhood store, had been sexually assaulted and killed by blows to the head.
Two days after Airis was found, the body of 10-year-old Anahi Orozco was found inside her home. She had been sexually abused, strangled and partly burned, police said.
Copyright 2018 The Associated Press. All rights reserved. This material may not be published, broadcast, rewritten or redistributed. We strive to uphold our values for every story published.