FAYETTEVILLE, ARK. — Wal-Mart Stores Inc. used the stage of its annual shareholders meeting Friday to try to convince two divergent groups - the company's social critics and Wall Street - that the world's largest retailer is on the right path.
Chief executive Lee Scott offered a simple prescription for meeting company standards, telling workers they should be "doing the right things and doing things right."
Company executives, speaking between celebrity performances at the yearly cheering session, told of strict diversity goals but also said the company was working to change its stores to better meet the desires of female shoppers, who spend more time in the aisles than men.
The company outlined different ways it planned to build on revenues that reached $288 billion last fiscal year.
Scott drew two standing ovations during the meeting, but feminist leader Martha Burk was applauded, too.
Shareholders and workers clapped when Burk, chairwoman of the National Council of Women's Organizations, said Wal-Mart could do better than having only two women on its 14-member board. She was applauded again after her presentation of a shareholder resolution calling for a breakdown by race and gender of distribution of Wal-Mart stock options.
"We want to be sure there is not an equity glass ceiling in our company," said Burk, who said she is a second-generation Wal-Mart shareholder. "Wal-Mart has the opportunity to break new ground in shareholder information."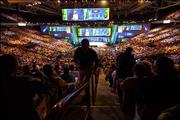 The resolution was voted down, as were seven other shareholder proposals.
Scott drew much louder applause from the 18,000 people at Bud Walton Arena on the University of Arkansas campus when he closed the meeting with a pledge that the company would continue to battle its critics.
One group, called Wake Up Wal-Mart, is working to organize individuals to rally the company to provide better pay and health benefits. Another group, Wal-Mart Watch, used a phone bank before the meeting to call Bentonville, Ark.-area residents to ask if they knew of any wrongdoing within the company, drawing a rebuke from Wal-Mart.
"A coalition of labor unions and others are spending $25 million to do whatever they have to do to damage this company," Scott said, calling the effort one of the "most organized, most sophisticated" efforts ever mounted against a company. "That means we'll continue to be judged by a higher standard than any other company. That's just the way it is. And that makes it more important than ever that we focus on doing the right things and doing things right, every time."
Paul Blank, director of Wake Up Wal-Mart, said Scott failed to own up to Wal-Mart's shortcomings and renewed a call for Wal-Mart to provide better pay and health benefits.
"On behalf of the American people, we will continue to expose the truth about Wal-Mart until the day Wal-Mart changes and does the right thing," Blank said.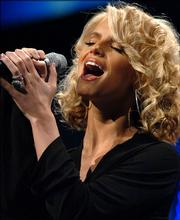 Another challenge for Wal-Mart: lifting the company's share price, which has fallen 20 percent since 2004. Shares fell 87 cents to close at $47.35 in trading Friday on the New York Stock Exchange, where they've had a 52-week range of $46.20 to $57.89.
Wal-Mart executives said the company was growing and trying to broaden its appeal. Clair Watts, an executive vice president in charge of product lines, said Wal-Mart traveled the world to develop its fashion lines, on which the company has placed a premium. Wal-Mart has been offering more pricey items but still keeps its staple low-price items geared toward Wal-Mart's core customers - 20 percent of whom don't have checking accounts.
Scott said Wal-Mart was committed to keeping its core customers who need Wal-Mart to stay within their budgets but said he wanted more middle-class shoppers to buy clothing and items for the home that they now walk past while they buy food and paper towels.
He also said he wanted to reach a third category - people with good incomes who never shop at Wal-Mart.
"Let's face it: Affluent customers appreciate saving money, too," Scott said. "We think there's room for them at Wal-Mart."
Wal-Mart has 5,350 total stores, including 1,808 Supercenters, 1,293 Wal-Mart discount stores, 554 Sam's Club warehouse stores and 89 Neighborhood Market grocery stores. The company has 1,606 international stores and more than 1.6 million workers in the United States and abroad.
Wal-Mart plans to expand its Lawrence store into a supercenter that includes groceries inside and a fuel center in the parking lot out front. Plans that would allow for a new Wal-Mart at the northwest corner of Sixth Street and Wakarusa Drive have been rejected by city officials, and developers are pushing to have the rejection overturned in court.
Copyright 2018 The Associated Press. All rights reserved. This material may not be published, broadcast, rewritten or redistributed. We strive to uphold our values for every story published.