Leavenworth County hasn't exactly put out the welcome mat for a sexual predator sent to live there after his release from a state prison hospital.
On Friday, a day after learning that Leroy Hendricks had been moved to a rural home in the southwest part of the county not far from Lawrence, leaders moved to kick him out of the home - and it appears they may have succeeded.
"We just do not want to be a dumping ground," Leavenworth County Commissioner Dean Oroke said.
Late Friday, the Board of County Commissioners filed a motion in District Court asking for a restraining order, alleging that the group home recently established to house Hendricks was in violation of county zoning laws that regulate businesses and group homes. At day's end, Oroke and County Counselor David Van Parys both said the order had been granted by Judge Robert Bednar and that it would require Hendricks to vacate the home immediately.
Oroke said sheriff's deputies were expected to go to the home about 7 p.m. and serve paperwork, but as of 7:45 p.m., no deputies had been there. The judge could not be reached for comment, and Sheriff David Zoellner did not return a phone call seeking comment about the paperwork.
The ranch-style home is at 24130 Golden Road, in a rural area just off Kansas Highway 32 about seven miles from Lawrence. A man who answered the door there Friday said he couldn't comment and referred all questions to the Kansas Department of Social and Rehabilitation Services.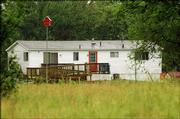 County leaders lashed out at SRS for placing Hendricks in the home with little advance notice.
"We feel that the SRS has completely backdoored us, so to speak," Oroke said.
An SRS spokesman couldn't be reached for comment Friday evening.
Oroke said the home was sold May 27 to a Lawrence agency that recently signed a contract with the state to care for Hendricks. The agency, Community Provisional Living, agreed to house Hendricks at a cost of about $278,000 for the first 15 months.
The agency is run by area resident Rick Whitson. Initially, the state announced the name of the agency as Lawrence Community Innkeepers, which is run by Whitson's wife.
The agency had planned to set up the home in Lawrence, but after a public outcry and petition drive, the state announced Wednesday that Hendricks had gone to Leavenworth County instead.
Hendricks recently finished more than a decade of treatment at Larned State Hospital. In 1994, he became the first person committed to the hospital under Kansas' sexually violent predator law, which allows high-risk offenders to be held and treated even after they've finished doing prison time.
State officials said Hendricks presents little threat because of his advanced age and because he'll be watched around the clock by a staff of seven.
And, Sedgwick County Judge Gregory Waller, who oversaw Hendricks' treatment program, recently ruled Hendricks was ready to try living on the outside again.
But those facts don't reassure neighbors, who said they had no idea Hendricks was moving into the area. Because his last crime happened before April 1994, he's not required to be listed on the state's public offender registry.
If the group home is allowed to stand, up to two more aging sexual predators could move into the home.
"I was actually shocked and outraged. I had no idea. No one contacted us. I have a 6-year-old child," said Marcia Roberts, who lives down the road. "I don't feel confident at all with just an assertion that a private agency is watching them."
A family with three school-aged children lives across the street from the home where Hendricks moved. Next-door neighbor Barb Freed has four young grandchildren who visit her and play in the yard.
"We didn't have time to have a say," Freed said. "As an individual : he has his rights, but I don't think the state should have done that without input."
Copyright 2018 The Lawrence Journal-World. All rights reserved. This material may not be published, broadcast, rewritten or redistributed. We strive to uphold our values for every story published.