A $50,000 gift from Lawrence's three area Rotary Clubs may end up helping the entire city's landscape look more beautiful.
At least that's the hope of Lawrence Parks and Recreation leaders who will celebrate the opening of the Lawrence Area Rotary Arboretum in West Lawrence at a special ceremony at 10 a.m. today. The 30-acre park features approximately 100 different varieties of trees, but the important part is that their species information are all clearly marked so amateur landscapers can know what will look good in their yards.
"I won't say on a daily basis, but on a very often basis I get people asking me what type of tree is that downtown or what type of flower is this," said Fred DeVictor, director of the Lawrence Parks and Recreation Department. "Now we have a place where they can go and see and learn for themselves."
The arboretum - between the YSI Sports Complex and the Clinton Lake Softball Complex near the intersection of 27th Street and the South Lawrence Trafficway - was a gift to commemorate the 100th anniversary of Rotary International. George Woodyard, chairman of the fund-raising efforts, said the approximately 300 members of the Lawrence Rotary Club, Jayhawk Rotary Club and Central Rotary Club basically "just dug into our pockets" to come up with the $50,000 to buy the trees and plantings for the arboretum.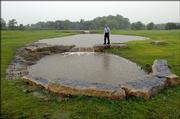 "We looked at a number of possibilities for appropriate projects, but this one really caught our attention," Woodyard said. "It is an educational project that will really help teach people, and it is a civic project because the community can go enjoy it for many, many years to come."
The arboretum is part of a 1,600 acre tract of land that the city leases from the U.S. Army Corps of Engineers. The park features a 10-foot-wide walking trail that meanders through the 30-acre area, which includes two ponds connected by small waterfall landscaping features.
DeVictor said what patrons saw now was just the beginning for the project. He said city crews would add more trees and plants over the years, and the look of the area would change as the current trees - most of which are under 10 feet tall - mature.
"This is one of the neatest gifts that we have ever received," DeVictor said. "It really is an investment because as that site continues to mature, it will get better and better."
Dedication today
Members of the city's three Rotary Clubs, along with leaders of the Parks and Recreation Department, will celebrate the dedication of Lawrence Area Rotary Arboretum at 10 a.m. today. The arboretum is near 27th Street and the South Lawrence Trafficway. It is between the YSI Sports Complex and the Clinton Lake Softball Complex.
Copyright 2018 The Lawrence Journal-World. All rights reserved. This material may not be published, broadcast, rewritten or redistributed. We strive to uphold our values for every story published.