Lima, Peru — Doctors opened the intensive care room door Thursday to give the world its first look at 13-month-old Milagros Cerron since surgery to separate her fused legs.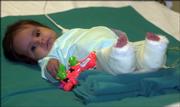 It was the second such successful operation on record to correct "mermaid syndrome."
Grasping a pink and green plastic dog toy, the bright-eyed baby was alert and tranquil while Dr. Luis Rubio flexed her toes and spoke to her softly.
Rubio on Thursday defended the unprecedented media coverage of Milagros' case after criticism from the regional dean of Peru's medical board that graphically televising her surgery live on Peru's Tuesday night news broadcasts violated medical ethics.
"This is an exceptional case. I don't know if we are going to see another one and the world has a right to be informed," Rubio said Thursday.
He said that like many poor people in Peru's Andes, Milagros' parents at first saw her deformity as a punishment from God and had to be convinced a medical solution existed.
Rubio said Thursday, 28 hours after the operation, that Milagros' condition was "optimal," with full blood flow in each of her legs.
Rubio said his medical team hoped Milagros would be able to walk within two years.
Copyright 2018 The Associated Press. All rights reserved. This material may not be published, broadcast, rewritten or redistributed. We strive to uphold our values for every story published.