A Lawrence man went to a local drug store Wednesday morning to buy bandages after being stabbed twice in the back of the neck.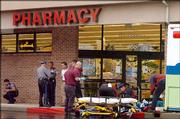 Police said it appeared the man went to the Walgreens pharmacy at 400 E. 23rd St. for first aid because he didn't want to get police involved. At day's end, police were interviewing one of the man's roommates, a 27-year-old Peruvian native, as a possible suspect in the stabbing.
Police believe the men got into a fight at their apartment in the 2200 block of Harper Street after staying up all night partying, said Capt. David Cobb, a police spokesman. The suspect went to the kitchen, picked up a 9-inch knife and stabbed the 27-year-old victim with it, police said.
It appeared alcohol was a factor in the fight, police said.
An acquaintance of the victim then drove him to the drug store, police said. A customer who was leaving the store about 8:45 a.m. saw the man in the parking lot, told him to lie down, and dialed 911.
The man was removed from the scene by a Lawrence-Douglas County Fire & Medical ambulance and treated and released from Lawrence Memorial Hospital.
Lawrence Police Capt. Ed Brunt said the victim spoke only Spanish, so it took police a few minutes to get a translator to the scene. Police said they had been talking to about six witnesses who were at the party.
Officers collected a beer can and bloody, rain-soaked clothing from the parking lot. They also were inspecting a white sedan in the parking lot.
Copyright 2018 The Lawrence Journal-World. All rights reserved. This material may not be published, broadcast, rewritten or redistributed. We strive to uphold our values for every story published.