I couldn't see them. But I could hear the two Jedi Starfighters roar in from behind and to the right of me, finally zooming onto the big screen.
That's the sensation I got from the movie theater's 5.1 DTS surround-sound system as I watched the opening of "Star Wars: Episode III - Revenge of the Sith."
"That's my ringtone," my daughter Julie whispered to me.
"Huh?"
What did a ringtone have to do with a spaceship battle from a long time ago, in a galaxy far, far away?
"I have that same sound as a ringtone on my new phone."
"Oh," I whispered. "That's cool."
I went back to watching Anakin Skywalker and Obi-Wan Kenobi continue flying on their search for Supreme Chancellor Palpatine.
But I couldn't get it out of my head - a Starfighter sound as a ringtone. I decided to look into it.
Mobile phones rarely just ring these days. Instead, they chirp, vibrate, honk, buzz, or even have sound effects from movies or voices and songs of popular entertainers.
That's because one of the first things you can do when setting up a cell phone is customize your own ringtone.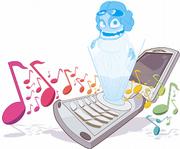 If you get tired of using the ringtones that came with your phone, it's fairly easy to download more, directly to your phone - for a charge, of course.
They include monophonic tones (a simple one-finger keyboard tune), polyphonic tones (full instrumentation) and the emerging "real tones," an actual audio clip.
Some newer phones let you personalize the rings of those on your cell's phone list.
For example, if you have a Treo mobile phone, you can get Ringo Pro software that lets you set up individual personalized MP3 ringtones for each person who calls you regularly.
The cost for ringtones at various Web sites is usually $1.99 to $2.99 per ringtone. You pay for it with a credit card and the ringtone is sent to your phone.
$500 million market
Like the mobile phone market itself, ringtone sales are growing exponentially.
According to BMI - Broadcast Music Inc., which represents some 300,000 songwriters, composers and music publishers - the ringtone market is expected to hit $500 million in retail sales this year. That's up from $245 million in 2004 and $68 million in 2003.
Last week, Napster announced its new Napstertones (www.napstertones.com) service had sold more than 100,000 ringtones since launching May 9.
So far, Napster offers ringtones through T-Mobile and Cingular phone services. But other wireless carriers are expected to be included later this year.
Late last year, Billboard Magazine, which tracks the hottest music on its charts, added a Hot Ringtones chart. The top ringtone tune last week? "Wait" by the Ying Yang Twins.
Going platinum
Two years ago, Sprint was the first company in the United States to begin offering "music tones," said Jackie Bostick, a Sprint representative. A music tone is a 15- to 20-second audio clip of a master recording of a song.
Overland Park-based Sprint sells those downloads for $2.50. Most of those ringers are being bought by a youthful audience, she said.
"I think there definitely is a sweet spot," she said.
But Sprint sells a variety of music and sounds to hit all age groups, including Broadway show tunes, she said.
Sprint and other wireless carriers also have begun offering music video-style ringers on a select number of handsets. They not only include the real music tones, but also a short video clip.
Last week, Nokia announced it also was getting into the video ringer game, unveiling its new "Watchtones" that will work on certain new phones.
Bostick told me Sprint doesn't release figures on its ringer or video ringer downloads.
But she said a few music tone ringers, including those featuring artists Beyonce Knowles and Usher, have gone platinum, selling a million ringers.
New markets
"That's amazing. Wow!"
Kip Haaheim, a Kansas University assistant professor of music composition, seemed impressed when I told him about some of Sprint's ringer sales going platinum.
Haaheim said he just learned last week how ringtones were becoming a billion-dollar industry.
If KU ever decides to teach how to compose music for ringtones, Haaheim will be involved.
"I would be the guy who would teach it," he said. "I do the music technology stuff. So far, we don't have anybody who has expressed specific interest in doing ringtone music. But, you know, if there's money in it, then almost certainly.
"Every composer has to be a little bit of an entrepreneur."
He's already taught students whose career goals are to compose for video games.
Haaheim recently composed music, featuring KU singers, for a Los Angeles-based golf Web site.
"They paid me a couple of thousand bucks," he said. "I think that these kinds of opportunities are definitely on the rise and are certainly providing professional opportunities for people who are savvy with that kind of technology."
Crazy Frog
And then there's the flip side - ringers that annoy.
One of the hottest ringtone downloads in the world is "Crazy Frog."
It's the voice of Swedish music composer Daniel Malmedahl imitating the sound of a two-stroke moped shifting through gears.
Seeing the lyrics - A ding ding ding ding dididing ding bing bing pscht, Dorhrm bom bom bedom bem bom bedom bom bum ba ba bom bom, Bouuuuum bom bom bedahm, Bom be barbedarm bedabedabedabeda, Bbrrrrrimm bbrrrrramm bbbrrrrrrrrraammmmm ddddddraammm, Bah bah baah baah ba wheeeeeee-eeeee-eeeee! - may make you understand why it's the most popular, and most irritating, ringtone on European-based Jamster.com.
The original "Crazy Frog" ringtone has evolved into 30 variations available on Jamster.com. One, "Crazy Frog Axel F," has been released as a music single and soared to the top of the British music charts this week.
Holograms?
After the movie was over, Julie showed me several of the Star Wars ringtones that came with her new Cingular phone.
I also went to Cingular's Web site, where I found lots of "Star Wars" voices listed to serve as ringtones, including Yoda, C3PO and Chewbacca.
Then I noticed Julie was wrong.
The ringtones available in Cingular's Star Wars offerings were the sounds of a TIE fighter - the spaceship used by the bad guys. As the backward-speaking Yoda might have said, technically, "Jedi Starfighters doing battle, your ringtone is not."
As I thought about "Star Wars," I wondered what would be next, as video ringers and "watchtones" replace ringtones.
Hmm. Maybe a three-dimensional hologram-tone, like those in Star Wars communications?
I don't know if I could handle it. Somebody would surely come up with an annoying hologram of the "Crazy Frog" doing Princess Leia.
But I gotta go, my phone is ringing.
That's right, ringing.
I'm going old school - at least for this week.
Copyright 2018 The Lawrence Journal-World. All rights reserved. This material may not be published, broadcast, rewritten or redistributed. We strive to uphold our values for every story published.