Detroit — The Texas Rangers were upset with themselves for the way their winning streak ended.
Brandon Inge's tiebreaking, two-run single in a five-run seventh inning lifted the Detroit Tigers to a 6-4 victory over Texas on Wednesday night.
The Rangers had won nine straight games, matching the second-longest streak in team history. They were trying to equal the longest streak in the majors this season, the New York Yankees' 10-game run last month.
"It's a tough one to take home with you," David Dellucci said. "But we just have to try to start another streak."
Texas had a three-run lead that starter Ryan Drese (4-5) quickly lost in the seventh.
The Tigers' rally started with Rondell White's leadoff single. It continued with Ivan Rodriguez's single that went off Drese's glove, Craig Monroe's RBI double and Chris Shelton's RBI groundout. Tony Giarratano, making his major-league debut, hit an RBI single, and Nook Logan bunted directly at Drese, who made a wild throw and was charged with an error.
Inge then followed with a single to right off Doug Brocail past a drawn-in infield.
"It seems like one little thing can cause a snowball effect," said Kevin Mench, whose two-run homer gave Texas a 3-0 lead in the fourth. "They took advantage of it."
Detroit has won four of five, with its previous victory also coming in a comeback against AL East-leading Baltimore. The Rangers fell into a first-place tie with the Los Angeles Angels in the AL West.
"When you play against good teams like that and you come from behind to win, and we've done it twice now recently, it's good," said Detroit's Ivan Rodriguez, who singled and scored in the seventh, one day after breaking his right hand. "It's nice for the fans to see that."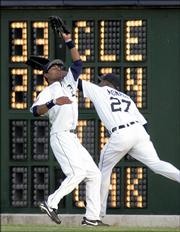 Despite a game-time temperature of 73 degrees, the game drew just 15,428 fans.
Detroit trailed 4-1 before its rally.
"It didn't look good for a while, did it?" Tigers manager Alan Trammell said. "That's a hot team, as we all know, so I'm happy."
Jeremy Bonderman (6-3) gave up four runs and 10 hits while striking out six and walking none in 71â3 innings.
Kyle Farnsworth relieved Bonderman in the eighth, striking out two, and Ugueth Urbina struck out the side in the ninth for his ninth save in 11 opportunities.
"We felt the bullpen would be a strength, and it has been," Trammell said.
Shelton was brought up from Triple-A Toledo on Tuesday, and Giarratano, who was at Double-A Erie, found out he would play for the Tigers the next day.
"They're the new guys, but I don't care who it is as long as somebody gets it done," Trammell said.
Giarratano said he had less than an hour to gather his belongings before flying to Detroit, arriving about two hours before the game.
"It hasn't sunk in yet, but I'm sure it will fast," he said.
Drese allowed six runs - five earned - and 10 hits over 61â3 innings. He struck out two and did not give up a walk. Texas starters earned each of the victories during the nine-game streak.
"It was frustrating," Drese said. "I thought it was the best I pitched all year."
Angels 10, White Sox 7
Chicago - Dallas McPherson hit a go-ahead RBI double in a four-run seventh inning, and Los Angeles beat Chicago to avoid a three-game sweep. McPherson also homered for the Angels, who rebounded from tough ninth-inning losses Monday and Tuesday. In the seventh, Kevin Walker (0-1) walked leadoff hitter Chone Figgins, who went to third on a hit-and-run single by Darin Erstad and scored on Steve Finley's game-tying single.
Athletics 11, Devil Rays 2
Oakland, Calif. - Eric Byrnes had a two-run triple and a season-high four RBIs, and Barry Zito snapped a five-start winless stretch, leading Oakland over Tampa Bay for a three-game sweep. Mark Ellis hit a two-run homer, Bobby Kielty drove in two runs, and Bobby Crosby doubled among his two hits for the A's.
Mariners 3, Blue Jays 0
Seattle - Gil Meche and four relievers combined on a six-hitter, and Seattle won its second straight series by beating Toronto. The Mariners gave Meche (5-3) all the support he needed in the fourth inning when Raul Ibanez hit a one-out double off Gustavo Chacin (5-4), and Bret Boone followed with a single up the middle.
Twins 6, Indians 2
Minneapolis - Torii Hunter had a career-high five hits and matched his career-best with six RBIs to lead Minnesota over Cleveland. Hunter put the Twins ahead 4-2 in the third inning with a grand slam to left off Cliff Lee, the fourth of his career.
Orioles 9, Red Sox 3
Boston - Miguel Tejada and Sammy Sosa hit back-to-back homers, Geronimo Gil added a three-run shot, and Baltimore beat Boston. Sosa's homer was his fifth of the season, first since April 24 and 579th of his career, leaving him four behind Mark McGwire for sixth place on the all-time list.
Copyright 2018 The Associated Press. All rights reserved. This material may not be published, broadcast, rewritten or redistributed. We strive to uphold our values for every story published.