Andrea Guiterrez thought it would be simple.
The winter Kansas University graduate got a job in the student financial aid office at the KU Med Center in Kansas City, Kan. To be closer to work, she rented a place in Overland Park.
But she continues to pay half the rent on a two-bedroom apartment about 42 miles from where she lives. As a result, Guiterrez has been looking for someone to sublease her Lawrence apartment.
"I thought it would be easy with all the students taking summer classes, but that hasn't been the case," Guiterrez said. "For now, I'm just paying the rent with the hope to find someone to sublease it."
Guiterrez is among the college students and graduates looking to leave Lawrence now that the academic year has ended but who are still tethered to town by their leases.
With more than 20,000 KU students living off campus this past year - and the majority signing leases running from Aug. 1 through July 31 - there are plenty of opportunities for people new to town to pick up a lease on the cheap, said Jo Hardesty, managing attorney and director of Legal Services for Students at KU.
"It's a renter's market," said Hardesty, whose office often deals with tenants looking to get out of their apartment leases. "You have all these empties to choose from."
Offering incentives
Bulletin boards across campus remain littered with notices from those seeking people to sublease their apartment. About 30 people have posted searches on apartments.lawrence.com looking for someone to sublease for June and July.
The subleasing market remains strong, though the overall rental market is getting softer, said Bob Ebey, a Lawrence landlord and vice president of Landlords of Lawrence Inc. He estimates that out of 100 apartments available for subleasing, about 90 will get a sublease.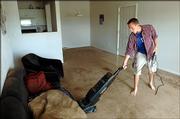 But the supply for overall apartments isn't helping. Of the more than 18,000 rental units in town, Ebey said, anywhere from 12 percent to 14 percent are vacant at any one time - the highest vacancy rate since 1996, when the number of new apartment complexes started outpacing demand.
More landlords are offering to nine- or 10-month leases, which increases the pool of university students looking to land subleases of their own for the summer, he said. A group of four friends may lose a couple of roommates for the summer, prompting them to move into a smaller place for July and August.
The cheaper rent of a sublease saves them money, Ebey said, or gets them a cheaper deal on a place they want to stay in for the coming academic year.
"It's people relocating and it's people who are already here," Ebey said of those who sublease.
Hardesty said with so many people and places in the market, people looking to sublet their places for the summer would do well to understand what they would be getting themselves into.
First off, she said: Many leases don't allow subleases, or at least not without restrictions.
So, renters should check their leases thoroughly to see what's required, she said. Many leases require the renter to effectively "break" the lease, turning over the contract to another tenant who has been approved by the landlord.
That's what First Management Inc. does. The company, with about 800 apartments in Lawrence, facilitates subleases by having renters fill out forms and register their needs for new tenants with the company's main office.
The complex then points prospective tenants toward those wanting early release from their leases.
If a deal can be worked out, the current tenants pay a $75 fee to effectively break the lease. The outgoing tenants go through an exit inspection, get their deposits back and turn over the place to the new residents.
"It's like writing a new contract," said Doug Compton, First Management's president. "Our goal is to make their lives easier for our tenants. It's just part of the process."
Compton said 20 percent of his apartments end up being subleased each summer.
His advice to tenants looking to sublease: Advertise for prospective tenants and consider offering to subsidize the new tenants' rent payments for the summer.
Hardesty said such arrangements were commonplace in the rental market where the best deal often wins.
"Some tenants will leave the deposit," Hardesty said.
Horror story
But tenants should take care not to simply "settle" for any prospective person to take over a lease, she said.
That's because a sublease is just that: a secondary lease. If the initial lease isn't broken, Hardesty said, the tenant remains ultimately responsible for whatever payments, repairs or other commitments may be required.
"We have one girl, she subleased to people she didn't know and they totally trashed it. If your car gets totaled, that's what this place looked like," Hardesty said.
The new tenants had written on the refrigerator with permanent markers, left holes in walls, taped toilet lids down - because the water had been shut off - and left evidence of drug and alcohol abuse, Hardesty said. The carpet had to be replaced, the walls had to be repaired and repainted, and a new refrigerator door had to be installed.
And the unwitting sublessor had to pick up the tab of about $4,000.
"This poor girl had subleased thinking, 'OK, great. I can move somewhere else,'" Hardesty said. "As it turned out, she was still responsible. Those people moved out to parts unknown. She had a case against them, but they were gone and they didn't have any money anyway.
"We rarely see that, but that's the nightmare."
Weekend home
Ben Parrott, who completed his junior year at KU, hasn't even had a chance to screen prospective new tenants yet. He's spending the summer before his senior year with his family in the Kansas City area, and has posted his need for a sublessor online.
He said he'd received one phone call from a person interested in renting his bedroom in a two-bedroom apartment for $400 plus half of the utilities, which is about $60.
Parrott doesn't have any takers yet, but he's trying to make the best of the situation. He figures that even if a deal doesn't come through, he still can't lose.
"If I sublease it, I will save a ton of money and that would be great," Parrott said. "But if I don't find someone, I'll just pay the rent and use the apartment as a place to go and hang out on the weekends."
Copyright 2018 The Lawrence Journal-World. All rights reserved. This material may not be published, broadcast, rewritten or redistributed. We strive to uphold our values for every story published.