Kansas City, Mo. — Just half a second and about 21 feet are all the Kansas City Chiefs require.
It sounds so simple.
But an extra split-second of hang time and a net punting average around 38.5 yards instead of 31.5 could make the difference between a mediocre season like last year's 7-9 disappointment and a playoff push reminiscent of the 13-3 campaign of 2003.
Even in 2003, the Chiefs had trouble punting and playing defense - a dangerous combination in any league, but certain to be lethal in the NFL.
Then last year, it got uglier. The defense, with practically everyone coming back, was one of the NFL's most feeble. At the same time, Kansas City's net punting average of 31.5 yards - crafted by three different kickers in what turned into a virtually bum-of-the-month club around Arrowhead Stadium - was the absolute worst.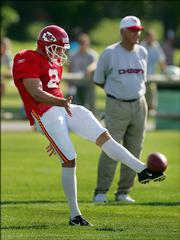 Now, after a bevy of offseason acquisitions and the bold moxie of coordinator Gunther Cunningham, the Chiefs hope they've addressed their atrocious defense. As many as five new starters could emerge.
But only one man can revive the punting game: Dustin Colquitt, a third-round draft pick out of Tennessee who kicks left-footed and has been known to hang the ball in the air for more than five seconds, about half a second longer than the NFL average.
The Chiefs have seen nothing in their first few training camp workouts to believe they've made a mistake. Dante Hall, one of the league's most feared punt returners, twice has failed to hold onto a high, arcing kick from the left-footed rookie.
"A very talented punter," said Kendall Gammon, Kansas City's 14-year veteran deep snapper. "He's got a lot of potential. He's got a strong, strong leg. He hangs the ball up there a long time."
Kicking left-footed is a big advantage because it puts a slant on the ball to which returners are not accustomed.
If Colquitt fails to become a top-flight punter, it will be a family scandal. His father, Craig, punted for the Pittsburgh Steelers and has two Super Bowl rings. His cousin, Jimmy, holds Tennessee's career punting average. His younger brother Britton is slated to punt for the Vols this season.
That all-important hang time may turn out to be one of his biggest assets. His goal is around five seconds.
"That way, the coverage team can get down there," he said.
Coming from Tennessee, he's not likely to be intimidated by the size of the crowd at Kansas City's Arrowhead Stadium. And he relishes the challenge of solving a team's punting woes.
"I like pressure-type situations," he said. "Most of my big punts at Tennessee came in the fourth quarter, at the end of halftime and stuff like that. I'm excited for the opportunity. I know they've had bad luck in the past, but that's why they drafted me. They drafted me to fix that."
Copyright 2018 The Associated Press. All rights reserved. This material may not be published, broadcast, rewritten or redistributed. We strive to uphold our values for every story published.