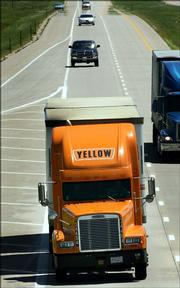 Overland Park — Trucking and logistics company Yellow Roadway Corp. on Thursday said second-quarter profit surged 62 percent on stronger revenue from each of its business segments.
Net income rose to $76.1 million, or $1.38 per share, in line with the company's previous guidance of $1.35 to $1.40 per share for the April-June period. That compares with net income of $46.9 million, or 97 cents per share, a year ago.
Revenue jumped to $2.09 billion from $1.67 billion.
The earnings result met Wall Street's consensus estimate of $1.38, but sales fell slightly short of a targeted $2.17 billion, according to a survey of analysts by Thomson Financial.
Shares of Yellow Roadway rose 12 cents to close at $54.09 on the Nasdaq Stock Market, but slipped $1.09 to $53 in after-hours activity. The earnings report was released after the market close.
Each of the company's segments posted sales growth in the quarter. Yellow Transportation recorded revenue of $851 million, up 7 percent year-over-year, and Roadway Express saw revenue rise 8 percent to $831 million. Yellow's smaller Meridian IQ business reported the broadest sales expansion, up 89 percent to $96 million.
Bill Zollars, chief executive officer, praised what he called a strong quarter in terms of earnings-per-share growth and better operating margins.
Copyright 2018 The Associated Press. All rights reserved. This material may not be published, broadcast, rewritten or redistributed. We strive to uphold our values for every story published.