Beijing — The top U.S. envoy held his longest meeting yet Thursday with his North Korean counterpart and said he hoped they would soon be able to draft a joint document that would signal some progress in talks aimed at curbing the North's nuclear ambitions.
Such a document of "agreed principles" would indicate a new level of dialogue between the two countries - and came amid renewed promises for progress in the negotiations, which on Friday will become the longest round of nuclear talks between the U.S. and North Korea in more than a decade.
U.S. Assistant Secretary of State Christopher Hill and others have stressed that they do not expect any breakthroughs. "We have a long way to go still," he said. "There's certainly some points of agreement, but there continues to be points of disagreement."
Thursday's bilateral meeting - held as part of six-nation talks - was a "maybe the first time both sides talked so deeply, so concretely and for such a long time," said Deputy Foreign Minister Alexander Alexeyev, the chief Russian delegate.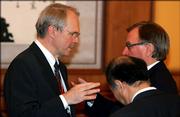 Hill said he hoped to start drafting a statement "in the next 24 hours" with results of the talks so far - a possible indication that negotiations were inching forward.
"We've had a lot of discussions with a lot of the delegations, so we'd like to see if we can put some of these thoughts down on paper and see where we are," Hill said after his two-hour session with North Korean Vice Foreign Minister Kim Kye Gwan. American officials have said the document would contain "agreed principles" for future negotiations.
No deadline has been set for the end of this round of six-party talks in the Chinese capital, unlike previous sessions that lasted three days.
Delegates from the United States, North Korea, South Korea, Russia, Japan and China began meeting in August 2003 and reconvened Tuesday for a fourth round of six-nation talks after a 13-month hiatus during which the North refused attend negotiations, citing "hostile" U.S. policies.
Most of the negotiations between the United States and North Korea have lasted for three days or less, but in 1994, United States and North Korea held several weeks of nuclear negotiations.
The increased contacts at this round between North Korea and the United States - who remain technically at war with some 32,500 U.S. troops based in South Korea - have raised hopes for movement in the nuclear crisis that began in late 2002, after the U.S. accused the North of running a secret uranium enrichment program.
The U.S. diplomat is set to meet again Friday morning with the North Koreans, the U.S. Embassy said.
Hill is representing Washington for the first time at the talks, and his contacts with the North Koreans are a departure from previous meetings. An experienced negotiator who has previously focused mostly on Eastern Europe, Hill has worked on resolving conflicts in Bosnia and Kosovo.
Meanwhile, a news report said North Korea hasn't assembled a working nuclear bomb but that the country has acquired all the components necessary to build one.
The North claimed to have nuclear weapons in February. However, a diplomatic source close to the arms talks told Russia's Interfax news agency that Pyongyang informed China that its announcement meant the North was able to build a detonator, the last component it needed for a bomb.
The United States has repeatedly said it has no intention to attack North Korea, and stuck by its offer of security guarantees and aid only after the North is certified as free of nuclear weapons by international inspectors who can ensure that the country stays that way.
Copyright 2018 The Associated Press. All rights reserved. This material may not be published, broadcast, rewritten or redistributed. We strive to uphold our values for every story published.