New York — Aaron Small has wiped out one of the TBA slots in the New York Yankees' creaky pitching rotation, earning a job for now after spending most of the last 61â2 years in the minor leagues.
Small won his second straight start since the Yankees brought him up from the minors, pitching a career-high seven innings and getting four RBIs from Gary Sheffield in a 6-3 victory over the Minnesota Twins on Thursday.
"There's times I looked around, but never in awe," Small said. "In Columbus, we had about 1,200 people, and here we had, what, about 50,000, so it's a little different."
Small (2-0) hadn't started a major-league game since 1996 before last week, when the 33-year-old right-hander helped New York to an 8-4 victory at Texas - his first big-league win in seven years.
He was given a 3-0 lead against the Twins, wasted it, then retired his final 12 batters after Jacque Jones' tying double in the fourth. He gave up three runs and six hits, walked none and struck out one, starting 16 of 26 batters with strikes.
"Until we see something that makes us uncomfortable, you certainly want to keep looking at him," Yankees manager Joe Torre said. "Right now, he seems very confident in what he does, and it's taken him a long time. And guys who stay with it to this point, the determination is there, the know-how, the intelligence on how to pitch."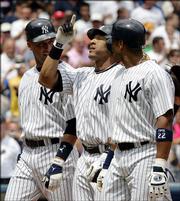 Small mixed a fastball and slider with a changeup that was taught to him by Doug Linton. Small has just five starts among his 149 big-league appearances and had pitched in just eight major-league games since 1998 before this month, when injuries to Kevin Brown, Carl Pavano and Chien-Ming Wang forced the Yankees to search for starters.
Al Leiter and Small have two of the spots until the return of Pavano and Jaret Wright, who has been sidelined since April. Later Thursday, New York acquired right-hander Shawn Chacon from Colorado for minor-league pitchers Ramon Ramirez and Eduardo Sierra, and the Yankees hope Chacon can pitch Saturday against the Angels between starts by Mike Mussina and Randy Johnson.
"We've been scuffling a little bit with trying to find a rotation," pitching coach Mel Stottlemyre said.
Tom Gordon pitched the eighth, and Mariano Rivera finished for his 26th save - all in a row since failing in his first two chances of the season. New York closed within 11â2 games of idle first-place Boston.
"We can get it done regardless who's out of the lineup," Sheffield said. "I don't know what the rotation is. I don't know who's pitching or when."
Sheffield hooked a three-run homer just inside the left-field foul pole in the first inning.
"I didn't think there was any way that ball was going to stay fair," Mays said.
After Minnesota tied it on Luis Rodriguez's two-run single in the second and Jones' double, Sheffield put the Yankees ahead for good with a run-scoring single in the fifth.
Blue Jays 2, Angels 1, 18 innings
Toronto - Orlando Hudson's RBI single in the 18th inning ended the longest game of the season and the longest in Toronto history as the Blue Jays beat Los Angeles.
Toronto's previous record was 17 innings, done three times previously. The last was in 2001, a 6-5 loss to New York.
Alex Rios singled off Scot Shields (6-6) with one out before stealing second and advancing to third on a wild pitch. Hudson singled to right past a drawn-in, five-man infield to end it.
Rangers 2, Orioles 1
Baltimore - David Dellucci hit a tiebreaking ninth-inning homer, and Alfonso Soriano also connected to lead Texas.
The Rangers took three of four from the sinking Orioles, who lost starting pitcher Sidney Ponson because of a bruised right thumb.
Baltimore has dropped eight of nine and is one game over .500 for the first time since April 14.
Dellucci snapped a 1-all tie with his 18th homer, a two-out drive on a 1-2 pitch from Chris Ray (0-2).
Soriano's shot was his 26th of the season.
Ricardo Rodriguez pitched seven-plus innings for Texas, allowing one run and six hits. Kameron Loe (5-3) worked out of a jam in the eighth, and Francisco Cordero got three outs in the ninth for his 24th save.
Indians 6, Mariners 5
Seattle - Pinch-hitter Jose Hernandez hit a two-out RBI single in the eighth inning, and Cleveland beat Seattle.
Seattle threatened in the ninth, but Ichiro Suzuki grounded into a double play to end it.
Copyright 2018 The Associated Press. All rights reserved. This material may not be published, broadcast, rewritten or redistributed. We strive to uphold our values for every story published.