Dallas — Looking to create new menu offerings, the casual-dining business has historically relied largely on gut intuition and instant feedback from customers.
But these days, as the growing segment of the restaurant industry has become more competitive, the major chains are following in the path of other consumer-products businesses.
They're hiring focus groups and poring over spreadsheets with all types of data.
"We want the public to think of it like the Keebler Elves: Every day, we're just making a better chocolate-chip cookie," said Philip Costner, vice president of research and development for Carlson Restaurants.
"In fact, that's not how it's done. There's a lot of science behind it. I mean a lot of science."
Rebeca Johnson, senior vice president for marketing and brand development at Brinker International Inc., agreed that restaurant chains were applying a lot more rigor to how they test new ideas.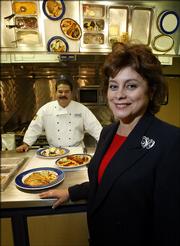 "It's more data-based," Johnson said. "We've tried to take some of the guessing game away from what's going to be successful in the marketplace."
Executives were quick to stress that the artistry and intuition of chefs haven't been abandoned in the casual segment, which includes the T.G.I. Friday's chain, a Carlson unit, and Brinker flagship Chili's Grill & Bar.
"The science gets rid of the guessing games," Johnson said. "It does not invent the ideas."
But the new science is helping chains score better with consumers, executives said.
"The success rate is higher in the new way of doing business," said Costner, though he and executives at other chains declined to offer specific data.
Johnson said that in rethinking the company's approach to research and development, Brinker has increased the use of focus groups, taste testings and the number of restaurants that participate in trials.
"If it's a big product, the number of stores where it's tested could be tripled," compared with past practice, she said.
Much of the hands-on work is done in a test kitchen, a low-slung, camel-colored structure at Brinker headquarters filled with state-of-the art ovens, proprietary smokers and chefs from the various Brinker chains.
Early in the process, Brinker seeks input from its "consumer insights" team.
Their job, said Johnson, is to "illuminate the road ahead," by identifying consumer trends such as healthier menu options and convenience.
In the past year, the company more than doubled the size of the team, adding eight members to boost the head count to 15.
Data and analysis don't actually lead to a recipe, but they will "tell you that Mediterranean flavors are hot now, or that Tex-Mex is leading to Nuevo Latino and flavors from Puerto Rico," said Costner of Carlson.
Some consumer input comes from sensory groups that answer questions about a proposed product based on information presented via computer. There also are focus groups, which can include eight or more consumers with a moderator leading the discussion. The restaurateur can watch via live video feed.
Some groups consist of regular users. Others seek out "trial rejectors," consumers who took a pass after their first try with a brand. Chains also may brainstorm with suppliers, who have done consumer research of their own.
That approach is not unusual, said Ron Marks, founder of Focus on Food, a food-research center based in Norcross, Ga.
"R&D; groups internally are looking to partner with key suppliers and vendors to share the risk, the burden and the cost of developing new products," said Marks, who was formerly vice president of R&D; for Overland Park-based Applebee's International Inc.
Risk and cost are two key factors helping to fuel the recent data drive.
"If you're a restaurant chain of 1,000 restaurants or even 300 restaurants and you support the launch of your new product (with advertising) you'll spend a couple hundred thousand dollars," largely to pay for ad production, Marks said.
That does not include the cost of the media buy, or the cost of field testing, staff training and ingredient purchases.
"To roll the menu item out, when you are a midsized chain, you're talking commitments of multiple millions of dollars," Marks said. "The risk of failure is much too great now, compared to five years ago."
Copyright 2018 The Lawrence Journal-World. All rights reserved. This material may not be published, broadcast, rewritten or redistributed. We strive to uphold our values for every story published.