Baghdad, Iraq — The U.S. military is considering offering protection to foreign diplomats in Baghdad after al-Qaida agents killed three Arab envoys this month, the American ambassador said Thursday.
"Coalition forces : are planning to look at this problem and see what could be done to fix the security for the diplomats," Ambassador Zalmay Khalilzad told reporters. "It's very important for foreign diplomats who come here to have a sense of security."
He spoke a day after Iraq's most feared terrorist group announced it killed two Algerian diplomats - including the country's chief envoy in Iraq - because of their government's ties to the United States and its crackdown on Islamic extremists.
Chief envoy Ali Belaroussi and diplomat Azzedine Belkadi were kidnapped outside their embassy in Baghdad's western neighborhood of Mansour. Al-Qaida in Iraq claimed responsibility.
The group - headed by Jordanian terror mastermind Abu Musab al-Zarqawi - also claimed responsibility for the kidnap-slaying of Egypt's top envoy and the attempted abduction of two other Muslim diplomats in a campaign to undercut support for the new Iraqi government within the Arab and Muslim world.
The United States has urged Arab and Muslim countries to deepen their diplomatic ties to Baghdad - a strategy which seems at risk after the brutal attacks.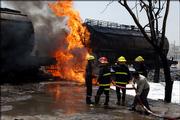 Khalilzad said no final decision had been made on offering protection, and some Arab diplomats may fear the presence of U.S. forces around diplomatic missions might actually draw insurgent attacks.
"We have not accepted taking on the mission at this point," Khalilzad said. "But what we've agreed is, we will look at this, see what the problem is, and what the options might be for assisting."
Both the Algerians and the Egyptian diplomat had no personal bodyguards. Belaroussi told colleagues he felt no need for security because of Algeria's good relations with the Iraqi people and its opposition to the U.S.-led invasion.
In Algeria, police detained Ali Belhadj, a former deputy leader of the banned Islamic Salvation Front, after he publicly praised Iraq's insurgency and condoned the killing of the two diplomats, an Algerian newspaper reported Thursday.
Belhadj, freed in 2003 after serving a 12-year prison sentence, was apprehended Wednesday after making the comments in a telephone interview with Al-Jazeera television, El Watan newspaper reported.
The kidnappings were part of a surge in insurgent attacks after the Shiite and Kurdish-led government was announced April 28. The U.S. military announced Thursday two American soldiers were killed and one was wounded in a roadside bombing the day before in Baghdad.
Deaths in Iraq
As of Wednesday, at least 1,782 members of the U.S. military had died since the beginning of the Iraq war in March 2003, according to an Associated Press count. At least 1,376 died as a result of hostile action.
Another American soldier died Wednesday in a non-hostile vehicle accident in central Iraq, the U.S. military said. That brought to eight the number of Americans killed in Iraq since Sunday night, when four members of the Georgia National Guard died in a bombing in Baghdad.
As of Wednesday, at least 1,782 members of the U.S. military had died since the beginning of the Iraq war in March 2003, according to an Associated Press count. At least 1,376 died as a result of hostile action.
Also Thursday, U.S. Marine jets dropped laser-guided bombs and other ordnance on insurgent positions northwest of Baghdad, killing nine insurgents - including five Syrians, the U.S. military said.
The airstrike was launched after troops from the U.S. 3rd Battalion, 25th Marine Regiment and the Iraqi 1st Division came under fire in a village west of Haditha, 140 miles northwest of Baghdad.
Jets from the 2nd Marine Air Wing dropped three laser-guided bombs and one global positioning system guided bomb, destroying all three buildings, the statement added.
Elsewhere, insurgents launched coordinated attacks against four Iraqi army checkpoints along a road between Baqouba and Baghdad, killing six Iraqi soldiers, police said. At least eight people - three soldiers, four policemen and one civilian - were wounded as fighting continued into late afternoon.
In Baghdad, a train carrying fuel exploded into flames when it was hit by a bomb, killing two people and wounding six, police said. The bomb appeared aimed at a nearby police commando checkpoint, police said. An Internet posting in the name of al-Qaida in Iraq claimed responsibility.
Copyright 2018 The Associated Press. All rights reserved. This material may not be published, broadcast, rewritten or redistributed. We strive to uphold our values for every story published.