After 50 years of unequal athletics facilities for girls, Lawrence High School finally is catching up with the times.
Tripling the size of the girls' locker room to make it equal to the boys' locker room is one highlight of the $3.6 million renovation and construction plan slated to begin in the spring.
"We're treating girls' sports like we have treated boys' sports for 50 years," said Tom Bracciano, the district's operations and facility planning director.
The locker rooms haven't changed much since the school was built in 1954. In those days, the focus was on boys' sports. But times have changed.
"There's a lot more girls involved in sports today than there used to be, so they definitely need more room," said Jenica Wessels, a Lawrence High student who runs cross country track and plays basketball and soccer. "I definitely think that girls deserve to have just as big of a locker room."
Currently, the girls' locker rooms are about a third the size of the boys'.
"During track and field season, there's like three sports in there," said Abby Vestal, a soccer and basketball player. "There's no place to walk around or anything. You start to hear the gripe: "There's no space. There's no place to change.'"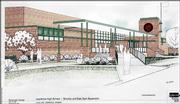 And girls often have to walk through the boys' locker room to get to the weight training room.
What's that like?
"Smelly," said Mallory West, a gymnast, diver and cheerleader.
Associate Principal Matt Brungardt said the school hasn't had any formal complaints, but some have commented about the walk to the weight room.
"We've had some of our female coaches point out that they don't think it's fair," he said. "It's been a concern of everybody. It's not equitable, and it's not right that the women would have to do that."
The conditions could raise issues with Title IX, the federal law that bars sex discrimination in education, Bracciano said.
The planned improvements were part of the 2003 bond proposal, which voters rejected. It now is part of the $63 million bond project.
The Lawrence High project includes several new science rooms and additions and renovations to the East Gym area. The exercise room and the boys' and girls' locker rooms will be updated. The gymnasium entrance will get a face lift. It will become a public entrance for sporting events.
And female athletes will get the locker room changes, though some may not notice.
"It's not really a big deal to me," said Drew Huff who plays basketball and softball. "I think the guys are in the locker room more than the girls are."
Copyright 2018 The Lawrence Journal-World. All rights reserved. This material may not be published, broadcast, rewritten or redistributed. We strive to uphold our values for every story published.