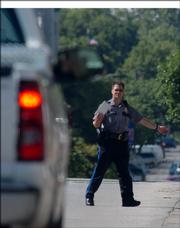 The angry drivers turned out to be right.
City leaders said Wednesday they'd discovered that signs rerouting traffic around a water-line construction project at Seventh and Massachusetts streets weren't visible enough to drivers. The finding came in the wake of complaints from at least a half-dozen people who had been stopped by police and given traffic tickets Tuesday and Wednesday for disobeying the signs.
"I'm sorry some of the folks got tickets the first day," City Manager Mike Wildgen said, adding that many - if not all - the tickets would be dismissed. "We probably should have had a little better understanding of what was going on down there."
Wildgen said the signs - prohibiting people from turning south from Seventh Street onto Massachusetts Street - weren't high enough to be seen. He said the contractor, Nowak Construction, had been notified of the requirements and would be changing the signs soon. In the meantime, police were asked to stop issuing tickets.
Mary Gordon, 62, said she was surprised when she received a $102 traffic ticket Wednesday.
"I did not willfully disobey the law," she said. "I was confused in Lawrence."
Gordon and other drivers began complaining Tuesday after police staked out the intersection and stopped drivers who disobeyed the signs. Sgt. Dan Ward, a police spokesman, said officers were simply doing their job and responding to a safety concern for the road crews.
"We had numerous complaints from the individuals on the street that they were almost getting run over," Ward said.
But several drivers complained that police were too quick to issue tickets instead of explanations.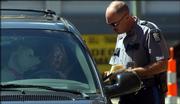 Gordon, of Kansas City, Kan., came to Lawrence on Wednesday morning to buy some artisan bread. She said she was going east on Seventh Street and was ticketed after she crossed Massachusetts, despite the presence of a "road closed" sign meant to stop eastbound traffic in the block.
Gordon admitted she saw the sign, but she said it was confusing because the westbound lane remained open.
"I just think if they said 'road closed,' then they should have closed the whole road," she said.
Gordon said she expected the officer to give her just a warning and was shocked when she got the ticket.
-->
"He was very nice, but I just thought it was wrong," she said.
City Prosecutor Jerry Little said that as far as he knew, the only visibility concerns were with the turning signs, not with the "road closed" sign. But he said he'd review each case on an individual basis.
Wildgen said the water-line project would last another two to three weeks.
Copyright 2018 The Lawrence Journal-World. All rights reserved. This material may not be published, broadcast, rewritten or redistributed. We strive to uphold our values for every story published.