The Purple Power's ability to decisively dominate the Jhawk Softball league was put to test in its second-to-last league game against White Tigers on July 13 at Youth Sports Inc.
Although the Purple Power won, 7-5, the White Tigers threatened to deliver the team its first loss.
"It was the closest game we've played in all year," Purple team player Jennifer Freeman said.
The Purple Power got off to a slow start and overcame a hiccup while cruising through most of the game.
The same group of girls have been on the same teams with the same coaches since they starting playing in third grade. Through the years, they recruited a few more players from their elementary school, Wakarusa Valley.
"At first, we were mixed with players from other schools, but the girls talked about it so much at school that we had enough good players playing for us that we didn't need to get any from other schools," Morgan Banning said.
Playing together and going to school together for such a long time has proven to be successful as of late.
"They don't walk as much and are hitting the ball well," Banning said.
Their growing knowledge of the game has been especially beneficial in the field.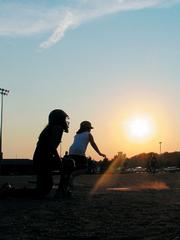 "They know the situations better," Banning said.
They've turned a double play in almost every game, Banning said. The girls rotate playing time evenly, with every player getting a chance to play and a chance to sit on the bench.
Banning said the girls have become so comfortable with each another that she hardly has to do any coaching. In fact, she has turned part of that responsibility over to the girls themselves.
This year the girls have also been taking their turn to see the game through their coaches' eyes by rotating the first-base coaching duty.
"It makes them see how important it is for them to focus and listen to the coaches," Banning said.
Player Sandina Oxford said she likes coaching because it gives her a chance to see what it is like to be in the coach's shoes.
Next year, the team plans to make the transition to the Lawrence Girls Fast Pitch Assn. because they will be too old to play in the Lawrence Parks and Recreation league.
Banning said the move to the LGFPA will be a good opportunity for her eager players ... or, rather, pitchers.
"We like to pitch to each other," Delaney Dieker said.
In the Jhawk Softball league, players switch off pitching every other inning with the coaches. In the LGFPA, the girls will pitch every inning, something that many of the players are looking forward to.
"I've got 12 girls who can't wait to pitch," Banning said.
Copyright 2018 The Lawrence Journal-World. All rights reserved. This material may not be published, broadcast, rewritten or redistributed. We strive to uphold our values for every story published.