Keith Whealy is beloved among his circle of friends and family for his homemade salsa, filled with vegetables fresh from the garden.
When birthdays or holidays come around, those who know Whealy have grown to expect a jar of the spicy condiment he turns out of his kitchen.
"I've got a lot of friends who really like it, so I give it as gifts. I can, oh gosh, upwards of 200 pints a year. It's just a cooked salsa with tomatoes, vinegar, peppers and onions," says Whealy, Lawrence's water treatment manager.
"I grow a lot of the peppers myself, but I have some friends in North Lawrence who grow a great Roma tomato called a Spectrum. It's a large Roma, and it has really excellent flavor and it doesn't make the salsa too runny."
Whealy doesn't cook and can all his salsa, though.
"We make fresh salsa out of the garden all the time. When the summer comes on, and if there's cilantro, we'll make it two or three times a month," he says.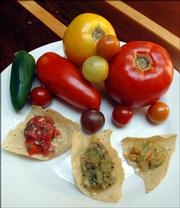 "Once upon a time, I won the purple ribbon out at the Douglas County Fair with it."
As Whealy already knows, late July is tomato time, when local gardens are filled with tomato plants weighed down with lovely red, yellow and heirloom varieties.
With all those fresh, ripe tomatoes available, that also means it's the perfect time to make and enjoy homemade salsa.
Paired with chips, Mexican food and a cool drink - say, a beer or a margarita - what could be better when the summer heat's on?
The answer: Nada.
Fresh tomatoes are the star of the salsa being served, starting this week, at Free State Brewing Co., 636 Mass.
It's made with a steady supply from the 300 to 400 tomato plants in the garden of Chuck Magerl, Free State's proprietor. He grows about a dozen different varieties.
As long as Magerl has fresh tomatoes, they'll be put to use in the restaurant's salsa, dished up and served with baskets of hot, crispy chips.
"Right now, the (tomato) season's looking beautiful," he says.
The fresh tomato salsa is made according to the restaurant's basic recipe, according to Rick Martin, executive chef.
"Our salsa has onion, celery, jalapeños, fresh cilantro, parsley and some secret seasonings. It's very, very mild actually. We really get the vegetable flavor to come through when it's not real spicy, and it pleases a lot more people," he says.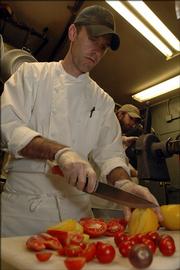 It's a great way to use up summer vegetables from the garden and add zip to many dishes.
"Not just the flavor, but the color that comes from the ripe tomatoes that are being used in the process really does enhance the sense of the food that you're eating. In many ways, some of the flavors can be replicated, but the coloration from ripe tomatoes, it grabs you right away," Magerl says.
And it's so easy to make, an aspect of salsa that Martin loves.
Some of his favorite kinds to whip up are a salsa fresca, made with just four raw ingredients (fresh tomatoes, garlic, cilantro and lime juice, plus a little salt and pepper; a yellow tomato salsa with roasted onions and garlic for depth of flavor; and a green tomato salsa with roasted onion and garlic - tart, but balanced with a little bit of honey.
"There's no better way to take local products like this (Magerl's tomatoes) and just paint a canvas with it," Martin says.
But, when it comes to making salsa, Magerl recommends keeping the heat index down.
"Tomatoes have their own natural balance of sugar and acidity, and my preference is a salsa that really allows that balance to come through, rather than being overpowered (by the heat of peppers). A habañero sauce obliterates all the other flavors," he says.
Serve with rice, grilled vegetables
Salsa fans abound in Lawrence, and that would certainly include Barbara Clark, co-owner of Maggie's Farm, 2050 E 1550 Road.
Clark and her husband, David, grow heirloom tomatoes, garlic, peppers, cucumbers and fingerling potatoes, which they sell, along with their own handspun wool, at the Lawrence Farmers Market.
"I am a salsa lover. It uses up stuff that's in season in the garden," she says.
"Last year, I sold salsa kits. I bagged up a pound of heirloom tomatoes, six assorted sweet and mild peppers, a bulb of garlic and a quarter cup of dried Serrano pepper flakes, with a little recipe."
Salsa is popular in her home this time of year.
"I'd say we make a pretty good batch of it three or four times a summer. I like it kind of coarse chopped. The way that we eat it a lot is we spoon it on top of rice, or grill vegetables and put the cool salsa on them," she says.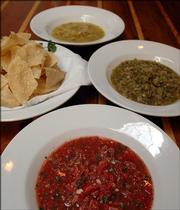 Mark Van Order, co-owner of Sage Moon Naturals, 1480 N 1700 Road, enjoys making tomatillo salsa, known as salsa verde.
He makes it with tomatillos, garlic, hot pepper and green peppers, onions, lime juice, white wine vinegar and salt.
Van Order and his partner, Michael Bates, grow a wide variety of vegetables, raise lamb and make medicinal and herbal products.
This time of year, fresh salsa's often on their table.
"Goodness, I couldn't even begin to count the number of ways you can use salsa. It's not just for chips. Obviously, it's good on tostadas and in burritos, but you can also use it as a complement to chicken or roast pork," Van Order says.
As long as it's not too hot.
"I want to be able to taste the food I'm eating. I want to taste the balance of flavors," he adds.
Anita's Fresh Salsa
3-4 fresh tomatoes, coarsely chopped
1 sweet onion (Vidalia or Texas Sweet), coarsely chopped
1/4 cup cilantro, chopped
2 jalapenos, chopped, remove seeds for a milder salsa
Juice of 2 limes
Coarse ground pepper, to taste
Salt to taste, add immediately before using)
1 chopped avocado, optional
Combine first six ingredients and let marinate in refrigerator for 1-2 hours. Add salt and serve.
Source: Anita Whealy, Lawrence.
Anita & Keith's Picante Sauce
6 pounds tomatoes (Romas work best)
1.5 pounds hot peppers, such as chiles, jalapenos, Santa Fe grandes, hot yellow bananas, Serranos, tabascos and black Hungarians, even Anaheims
1.5 pounds onions
1 cup vinegar
3 teaspoons salt
1/2 teaspoon black pepper
Caution: Wear rubber gloves while handling chiles, or wash hands thoroughly with soap and water before touching your face.
Wash tomatoes and dip in boiling water for 60-90 seconds or until skins split. Dip in cold water, slip off skins and remove cores.
Using food processor, coarsely chop tomatoes, onions and peppers, and combine with remaining ingredients in large saucepan. Heat to boil and simmer 5 minutes. (If doing a double batch, heating to a boil is enough.) Overcooking will increase liquid in finished product. Fill jars, leaving 1/2 inch headspace. Adjust lids and process.
Recommended process time for picante sauce in boiling-water canner:
Hot pack: Pints, 20 minutes; quarts, 25 minutes.
Yield: 6-8 pints. Recipe can be doubled.
Source: Keith and Anita Whealy, Lawrence.
Double Tomato Salsa
2 tablespoons lemon juice
2 tablespoons orange juice
1 or 2 Poblano or Anaheim chiles, roasted and peeled
8 oil-cured, sun-dried tomato halves, seeded and quartered
3 tablespoons fresh cilantro or parsley, chopped
1/4 cup fresh basil, chopped
1 tablespoon olive oil
Salt and pepper to taste
Combine juices and roasted peppers in food processor; process briefly. Add fresh and sun-dried tomatoes; process into chunky sauce. Transfer to bowl; stir in remaining ingredients. Chill 30 minutes or serve immediately.
Yield: Nine 1/4-cup servings.
Source: www.salsa-recipes.com.
Fresh Homemade Salsa
2 tomatoes
1 lime
2-3 teaspoons chopped fresh cilantro
1 medium onion, diced
1 6-ounce can tomato paste
2-3 jalapeno peppers, finely chopped
1/2-1 teaspoon minced garlic
1/2 green pepper, diced
Place tomatoes in blender and blend until they are a chunky consistency. Add chopped onion and chopped green peppers, blend 20-30 seconds. Heat pricked lime in microwave 10-20 seconds. Cut lime and squeeze into salsa mixture; discard lime. Add garlic, cilantro, tomato paste and jalapenos. Stir and refrigerate 2 hours before serving.
Source: www.salsa-recipes.com.
Green Tomato Salsa #2
6 green tomatoes, peeled, cored and seeded, then coarsely chopped
1 Granny Smith apple, peeled, cored, coarsely chopped
1 medium onion, peeled and minced
2 tablespoons sugar
1 small jalapeno, seeded, deveined and minced
2 tablespoons grated ginger
2 tablespoons lemon zest
1/2 teaspoon salt, plus more to taste
1 teaspoon freshly ground pepper, plus more to taste
1 cup fresh cilantro, minced
Place tomatoes in large, cast-iron skillet. Add apple, onion, sugar, jalapeno, ginger, lemon zest and salt and pepper. Cook over low heat until thickened into a heavy paste, about 35-40 minutes.
Source: www.salsa-recipes.com.
Ninfas Salsa Verde
4 avocados, mashed
3 green tomatoes
4 tomatillos, or 6 if small
1 clove garlic, peeled
1 1/2 cup sour cream
4 sprigs cilantro (1 tablespoon chopped)
1-2 jalapenos
Salt to taste
Remove stems and seeds from jalapenos and chop. Save. Simmer tomatillos. Rinse them and remove husks. Add water almost to cover and boil about 5 minutes, or until soft. Mince garlic. Transfer to saucepan. Chop tomatillos and tomatoes and add to saucepan. Simmer 1 minute over medium heat. Let mixture cool. Blend together all ingredients in blender until smooth.
Source: www.salsa-recipes.com.
Roasted Tomato Salsa
12 Roma tomatoes
2 cloves garlic, unpeeled
1 small onion, quartered
1 medium jalapeno pepper
1 1/2 tablespoon olive oil
1 teaspoon ground cumin
1/4 teaspoon salt
3 tablespoons fresh lime juice
1/4 cup chopped fresh cilantro
Toss first 4 ingredients with olive oil; spread vegetables in a 13 x 9 x 2 heavy baking pan. Broil 5 1/2 inches from heat, with electric oven door partially opened, 10 minutes or until vegetables are charred; cool. Remove and discard tomato cores. Remove and discard stem, but not seeds, from pepper. Peel garlic, discard skins. Position knife blade in food processor bowl; add roasted vegetables. Pulse 4 times or until vegetables are coarsely chopped. Stir in cumin and remaining ingredients. Serve with tortilla chips or as a sauce.
Source: www.salsa-recipes.com.
Salsa Fresca
1 large tomato, peeled
2 scallions, chopped
4 green chiles, parched
2 cloves garlic, minced
1/2 teaspoon salt
Chop vegetables very fine. Stir in salt and allow to marinate for at least 15 minutes.
Source: www.salsa-recipes.com.
Sensational Summer Salsa
4 jalapenos (or any hot pepper, your choice), chopped fine
4 large cloves garlic, chopped fine
1 bunch green onions, thinly sliced
1 medium yellow onion, chopped fine
6 large, ripe tomatoes, diced
Cilantro, as much or little as desired, finely chopped
Assemble in given order, ending with cilantro on top. Toss all together just before serving.
Source: www.salsa-recipes.com.
Copyright 2018 The Lawrence Journal-World. All rights reserved. This material may not be published, broadcast, rewritten or redistributed. We strive to uphold our values for every story published.