Though the final Jhawk Baseball game for the Cubs and the Yankees at Holcom on July 11 was decided before it began, both teams walked away with smiles on their faces and trophies in their hands.
The Cubs had only four players show up for their game.
A shortage of players had been an issue for the Cubs all season long. But even when they didn't have enough players to field an actual team, it hasn't stopped them from playing any of their games.
While it may not have been an official game, the two teams were able to scrimmage because some of the Yankees players switched over to play with the Cubs.
Playing against his own team members was an adjustment for Yankees pitcher Drew Wesp, who pitched for the Cubs in this game.
"I was nervous to pitch to my teammates," Wesp said.
The biggest challenge was for Yankees parents, who had to decide which team to cheer for.
The Cubs were first to get on the board in the top of the second. After Giles Garcia made his way to third, Carlos Florez drove him in with a single. The Yankees answered back with five runs in the bottom of the second inning.
The Yankees had fun, friendly competition going on in the field during the game.
"Drew, hit it to me!" yelled Yankees second baseman Mitch Damron, when his teammate, Wesp, came up to bat for the Cubs.
Instead of hitting the ball to Damron, Wesp hit a single to right field that brought in two runs. However, Donald Harris did hit it to Damron for single in the next at-bat.
The score was irrelevant at the end of the game, not only because of the forfeit, but because the players had done what they came out to do: play baseball.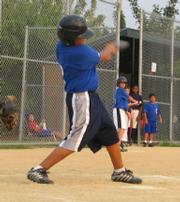 First-year coaches Blake Robinson and Mike Barnaby, both Kansas University students from Manhattan, said the smaller group helped them get to know the players who made it to their 10 games.
"You really saw the joy they had playing baseball," Barnaby said.
The Cubs' coaches said they saw game-by-game improvement in their players. Never coaching a team before gave them an opportunity to find ways to teach their players a multitude of components of baseball.
Yankees' first-year coach Renee Czarnik said the parents of players on her team helped to make her first year in coaching a positive experience.
Looking back at the Yankees season, Czarnik said that with the energy her team brought to every game, she had trouble just picking out a single highlight for their 5-4-1 season.
But Marty Williams determined his personal best, the no-hitter and the home run he had earlier in the year.
Copyright 2018 The Lawrence Journal-World. All rights reserved. This material may not be published, broadcast, rewritten or redistributed. We strive to uphold our values for every story published.