Houston — Craig Biggio and Lance Berkman needled each other after a record-setting night.
Biggio and Berkman set an Astros mark by hitting consecutive home runs twice in one game, and Andy Pettitte won his fifth straight decision to lead Houston past the Philadelphia Phillies, 7-1, Monday.
"I don't hit that many homers," Biggio said. "But Lance gets paid a lot of money to hit them, so it's pretty cool for me to hit them at the same time."
Berkman just chuckled at that.
"The toughest ones to hit in back-to-backs are definitely the second ones," he said. "Putting the icing on the cake is tough."
The double back-to-back homers by the same players were the first in Houston history. It was the first time it happened in the major leagues since May 18 last season when Matt Holliday and Jeromy Burnitz did it for Colorado in Cincinnati.
It also was the 15th multihomer game of Biggio's career and Berkman's 14th. But they were more impressed by the performance of Pettitte (8-7), who is 5-0 in seven starts since a 6-1 defeat June 14 at Baltimore. He is two wins short of his longest career win streak set in 2000 with the New York Yankees.
The left-hander allowed just Jimmy Rollins' homer and seven hits in seven innings, striking out seven and walking three.
Pettitte lowered his earned-run average to 2.73, his lowest career mark through 20 starts.
"He was great tonight," Berkman said of Pettitte, who had elbow surgery last Aug. 13. "I think it might have been his best start. I think it's just remarkable what he has been able to do with a 75 percent elbow."
Cubs 3, Giants 2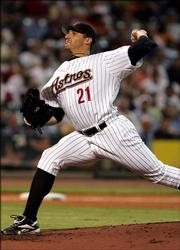 Chicago - Jeromy Burnitz hit a bases-loaded sacrifice fly in the bottom of the ninth inning, and Chicago rallied past San Francisco.
Shut down by Jason Schmidt for seven innings, Chicago tied the game in the eighth on Neifi Perez's bases-loaded single.
Ronny Cedeno led off the ninth with a single against Tyler Walker (3-3) and was sacrificed to second by Jerry Hairston. Todd Walker followed with a single to right, with Cedeno holding at third before Derrek Lee was walked intentionally.
Jeff Fassero, the Giants' sixth pitcher in the final two innings, relieved, and Burnitz hit a line drive to center. Jason Ellison caught it and made a strong throw to the plate, but Cedeno just beat the tag and slid in with the game-winning run.
Brewers 4, D'backs 2
Milwaukee - J.J. Hardy hit a tiebreaking homer in the seventh inning to back Ben Sheets, and Milwaukee beat Arizona.
Hardy, in an 0-for-11 slide, connected off Tim Worrell (0-2), making his second appearance since Arizona acquired him from Philadelphia last Thursday. It was just the third homer in 216 at-bats this year for Hardy, his second in six days.
Dodgers 4, Reds 0
Los Angeles - Derek Lowe allowed only one hit in eight innings, and Jason Repko hit a three-run double for the Dodgers.
Lowe (7-10) struck out five and got 16 groundball outs before leaving due to a blister on his right thumb after 97 pitches. Steve Schmoll worked a perfect ninth to finish it.
Cincinnati got its only hit when Rich Aurilia singled sharply through the left side with two outs in the fifth. Lowe allowed just two flyouts, both by rookie Edwin Encarnacion.
Aaron Harang (6-9) lost for the seventh time in nine decisions, allowing four runs and seven hits in six innings.
Rockies 5, Mets 3
Denver - Jose Acevedo allowed three runs over six innings in a spot start, helping Colorado open its homestand with a victory over New York.
Acevedo (2-0), who started for the Reds last year and was traded to Colorado this spring, made his first start of the season, allowing five hits and striking out one without a walk. He was replacing Jason Jennings, who was lost for the season last week when he broke his finger sliding into second base.
Copyright 2018 The Associated Press. All rights reserved. This material may not be published, broadcast, rewritten or redistributed. We strive to uphold our values for every story published.