Baghdad, Iraq — A suicide bomber aiming to blow up an Iraqi police station killed 40 people Sunday when his explosives-laden truck detonated as he maneuvered across a highway median in eastern Baghdad, the U.S. military said.
Some of the victims were incinerated in their cars by the blast, which U.S. military officials estimated had the force of nearly 500 pounds of TNT. The explosion destroyed 18 vehicles, a line of shops and a house. U.S. troops and Iraqi police rushed to the scene of the bombing, a poor neighborhood home mainly to Shiite Muslims.
The bombing, the fourth major blast in two weeks, came as the National Assembly continued to struggle with the fallout of last week's assassination of a Sunni Arab member of the constitution-drafting committee.
Sunni Arabs have suspended their participation in the drafting until new security measures are in place, and some influential lawmakers now say the document may not be done by the Aug. 15 deadline.
"They may not be able to meet the deadline and get the final draft (by Aug. 15) ... and we'll just have to wait until they finish and it will be a few more days and a few more days, two weeks or three weeks or even a month," said Hussain al Shahristani, a deputy speaker of the assembly and a member of the United Iraqi Alliance, the Shiite-majority slate with the legislature's largest number of seats. "This has happened before - the formation of the government drifted for three months, and the first meeting of the National Assembly took another month."
However, Shahristani said the assembly would refrain from formally delaying the process, because the slippage is expected to be brief and there is pressure from many quarters to finish the drafting. Among those urging the assembly to finish on time is Grand Ayatollah Ali Sistani, Iraq's senior Shiite cleric and a key backer of the United Iraqi Alliance.
"He strongly advises that people keep to the deadline," Shahristani said.
In addition to creating practical problems such as the Sunnis' temporary withdrawal from the constitution-writing, Iraq's ongoing violence also has created more intangible political difficulties.
The insurgents' campaign of bombings, shootings and abductions has left Iraqis distrustful of their government's ability to control the situation, and politicians feel increasingly constrained in their ability to make compromises, lest constituents perceive them as weak.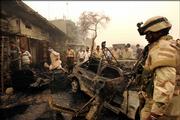 In light of the latest attacks, Iraqi Prime Minister Ibrahim Jaferi announced a new security program Sunday designed to target the insurgency outside of Baghdad more aggressively.
The plan envisions extending measures employed in Operation Lightning, an anti-insurgent crackdown in the capital, to other cities. Despite deploying tens of thousands of police and national guard troops, making hundreds of arrests and establishing checkpoints, the effort appears to have had little impact on the insurgency.
Sunday's bombing was one more example of the random slaughter that has become routine in Iraq. The blast occurred about 75 yards from the Al Rashad police station, traumatizing an entire neighborhood.
Dazed residents, many bleeding from cuts caused by flying glass and metal, wandered about, trying to regain some sense of control of their situation.
Taxi driver Izalden Abdul Qader, 53, had just finished his shift and arrived home. Recently, he had fenced off his yard to make sure that cars loaded with bombs could not park there. He had been home all of five minutes, he said, "when I heard a loud explosion shattering all the windows in my house and injuring every member of my family."
"Our injuries are minor, but the house was damaged. The victims are so many, some were pulled from their cars," he added with a shudder. His car, which was also his livelihood, was decimated in the blast.
North of Baghdad, one U.S. soldier was killed and two were wounded during an indirect fire attack on a base near Balad, the military said. The United States also announced that a Marine was killed Saturday in an improvised bomb attack during combat operations near Rutbah in western Iraq.
Copyright 2018 The Lawrence Journal-World. All rights reserved. This material may not be published, broadcast, rewritten or redistributed. We strive to uphold our values for every story published.