Ruth Kenyon is devoted to an 18-pound gray cat named Joseph.
"I love him dearly and he gives unconditional love," said Kenyon, 76. "He's a wonderful companion."
Last year, U.S. pet owners spent $34.4 billion caring for their pets. They will spend $35.9 billion this year, according to estimates of the American Pet Products Manufacturers Assn. in Greenwich, Conn.
Keeping 9-year-old Joseph happy and healthy is a top priority for Kenyon. She's willing to spend the money and also looks at alternative ways to keep her feline pal in good shape. She buys organic pet chow from Lawrence's Natural Pet Food & Supply and uses alternative health care in addition to annual visits to a veterinarian.
Several pet owners are turning to providing their furry companions natural foods, alternative healing and homeopathic remedies.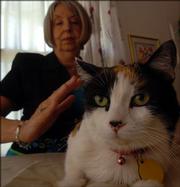 Others are skeptical of the methods.
Garrett Sedlacek, 18, of Lawrence, said his two dogs and two cats receive regular dog and cat food from the grocery store.
"I wouldn't feed them organic food unless they were dying and a veterinarian told me to do it," he said. He also scoffed at the idea of alternative healing for pets.
"It seems sort of silly," he said. "I can't believe people would do it. I don't think I need someone talking to my pets to tell me what they're thinking. They pretty much let you know what they want."
Alternative healing
Kenyon also is a client of Karmel Astarae - formerly Karmel Mangan. Astarae, in some ways, is a pet psychic, Kenyon said.
"It works for me, and it works for my cat," Kenyon said. "What others may think really doesn't matter to me."
Astarae owns Spirit Whispers. She specializes in "energy medicine," which is based on the premise that human and animal bodies are composed of various energy fields. Astarae said that energy fields for people and animals can become blocked when they are sick, in distress, out of balance or otherwise disturbed. She attempts to restore health by first detecting and then removing the blockages.
"It's really all about balance," said Astarae, who has received training in energy medicine through other practitioners in Kansas and throughout the country.
She has trained with experts in the field in Arizona, Wisconsin and California and specializes in the ElectroMagnetic Frequency Balancing Technique. Astarae said the technique helps balance the body and allows for a higher quality of life.
"Energy medicine - whether it's with a human or it's with a pet or a plant - it's basically complementary to standard medical care," Astarae said.
Her new-age type medicine is not governed by the Kansas Board of Healing Arts.
Kenyon swears by Astarae, saying she has helped her cat several times.
"Karmel can communicate with him using psychic powers," Kenyon said. "I've found it handy, and Karmel has been very successful with Joseph. Sometime in June, he quit eating, and he's always had a healthy appetite. So it was alarming. I called Karmel to see what she could pick up. Joseph told her it was just too hot."
Astarae, who has been working in Lawrence for about seven years, usually works with people. But the number of pets she is working with has increased. She said she has probably assisted with more than 100 pets - usually cats and dogs. The number is growing though.
Working with pets is a little different than with people, Astarae said. For one, they are smaller.
"But they don't really have the human issues that we as people carry," she said. "I usually work about 45 minutes with a pet. They'll usually speak to me in very basic comments, like 'I don't like food out of a can' or 'I don't like what is being put in my water.' They usually pretty much directly say what they mean. It's very basic stuff. Then I work with them from the heart and let them know how wonderful they are and how special they are."
Results as usually immediate, she said.
Sometimes the animals are brought to her house, which she uses as her office. Many times, however, Astarae said she works with pets remotely by locking in and sending waves of energy to the pets.
"I hear and I feel my angel is giving me insights so I am able to communicate with the pets and help them," she said.
Organic foods
Some area pet owners, including Kenyon, purchase food at Natural Pet Food & Supply, 3025 W. Sixth.
The store has been open about a year, said owner Sara Brooks-Czapinski. Since then, the store has amassed a database of about 1,000 customers. The organic pet food business is doing so well that Brooks-Czapinski opened another store in Leawood.
Her store is stocked with different animal food products. One brand provides a New Zealand venison and sweet potato food formula. Another offers an ocean fish formula. There's a refrigerator and freezer allowing pet owners to purchase fresh foods. A 13-ounce can of pet food ranges anywhere from $1.50 to $3. A 3-pound bag of raw frozen diet food is about $12.
"I think a lot of people are interested in trying organic foods for their pets," she said. "I think people see benefits to it, and this is a matter of people looking at their animals a little more like humans. When we're not eating well, we can feel the results. It's the same with pets."
Copyright 2018 The Lawrence Journal-World. All rights reserved. This material may not be published, broadcast, rewritten or redistributed. We strive to uphold our values for every story published.