When Baldwin resident Don Mueller called Scott's Repair, he just wanted a new furnace to warm his home. But he ended up getting his heart warmed, too.
That's because one of the workers the Baldwin-based business sent to his home was Gabe DeLapp, a young man in his early 20s who was fighting to overcome a past of drugs, burglary and jail.
What impressed Mueller, a retired Baker University speech professor, was that DeLapp was winning the fight. DeLapp had just completed the Heart of America Teen Challenge, a faith-based program that works with people 16 or older who have had problems with the law.
"I got to know him, and it occurred to me that this was a young guy that could be doomed for life if it wasn't for this program," Mueller said.
The program impressed Mueller enough that he became a fundraiser for it. Mueller and several former music students - as well as longtime band leader Clyde Bysom - will put on a charity concert featuring 1940s and 1950s music at 2 p.m. Aug. 21 at Plymouth Congregational Church, 925 Vt. Organizers will accept donations with all of the money going toward the teen program.
Hard work
DeLapp, 24, says he believes the program saved his life.
"I have more felonies than you could count on five hands," he said. "I really don't know how many I have. But I was into a lot of drugs, burglaries. But I have learned a lot. We believe Jesus Christ is really the only answer to these problems. The program helps you find out what Jesus Christ is all about and how he intended us to live."
Correction
A story in Monday's Journal-World incorrectly identified Don Mueller's position at Baker University. He previously taught speech at Baker University.
The program, which dates back to the 1950s, is based in Springfield, Mo., but it has a major presence in Douglas County. The nonprofit organization for several years has owned a house adjacent to the O'Connell Youth Ranch east of Lawrence, where it provides a home for up to 12 program participants.
Douglas County participants stay at the home for four months. While there, they become familiar with the program and also work hard, said Mark Halford, who oversees the Heartland chapter of the organization and also is pastor of Baldwin's New Life Assembly of God.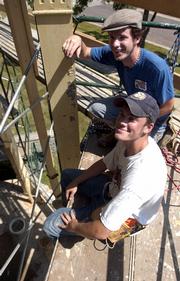 The organization runs a service that sells firewood to area residents, meaning many of the participants spend their days splitting wood.
"We're not as focused on the work skills as much as we are on the work attitudes," Halford said. "We feel that a person can do anything if they have the right work attitude."
Program participants also are given cleaning jobs and handyman work. After four months at the Lawrence location, program participants are sent to Cape Girardeau, Mo., where they receive more Bible study and work for a firewood service, lawn mowing business or other similar work programs that the organization has developed.
"Teen challenge is probably one of the hardest things I have ever done in my life, but it totally changed my life," DeLapp said.
'The thing to do'
The hard work paid off for DeLapp. Shortly after completing the program, he was offered a job with Scott's Repair, a Baldwin-based business whose owners attend Halford's church.
That was two years ago. DeLapp said he's now earning a good wage as a carpenter, paying restitution to his victims and hasn't had any more problems with the law.
Halford, though, admits it doesn't work that well for everyone. He said about half of the participants who enter the program drop out before they complete it. Participants are free to leave any time they choose.
Halford said people who aren't open to the religious teachings of the program likely will have a difficult time finishing it.
"But the success rate is really high for those who complete the program," Halford said. "We have seen a lot of changes take place with individuals who have battled life-controlling problems.
"I think teen challenge gives them the opportunity to get things turned around. It gives them a chance to deal with the root issues of their problems instead of just scratching the surface."
The program, which has about 200 locations in the U.S., is primarily supported by donations from churches across the country and from fundraising events like the one Mueller is hosting. Participants often learn of the program through churches.
DeLapp learned about the program while he was serving time in the Jackson County, Mo., jail. His father was a minister and several of his colleagues had told him about the program.
DeLapp said he was willing to give the program a try because he felt he had hit the proverbial rock bottom. After leaving home at 19 and becoming part of the Kansas City "rave" scene, DeLapp developed a hard-core drug habit. That and his inability to hold a job led him to join up with a group of thieves. He said they committed three or four burglaries per month in the Kansas City area. Eventually, he ended up stealing from his father's church and three others.
Lana Braddock, who along with her husband, Scott, own Scott's Repair, said she has never regretted hiring DeLapp. She said her husband invited DeLapp and the other program participants to their rural home for a barbecue and to fish in their pond several years ago.
"We knew it was going to be hard for the guys to get work if they have legal issues and parole issues," Braddock said. "It just felt like something we should do."
Today, Braddock said she has no doubt that DeLapp is a completely different person.
"We know he has robbed and stolen, but he has our company credit card," Braddock said. "He could take us to the cleaners, but we know he won't. We totally trust him like our son."
Copyright 2018 The Lawrence Journal-World. All rights reserved. This material may not be published, broadcast, rewritten or redistributed. We strive to uphold our values for every story published.