Ric Rosenkranz seems to make his best memories at Lone Star Lake.
As a Kansas University student over a decade ago, the 34-year-old said he often barbecued with friends at the location.
"I'd come out to just kind of get away from it all," Rosenkranz said. "I always thought it was really pretty out here. Not like Lawrence is a big city, but I wanted to get away from traffic and congestion."
Rosenkranz found himself anything but crowded at the finish line of Sunday's Midwest Mayhem Triathlon, winning the Olympic competition with a time of 2 hours, minutes, 43 seconds - nearly seven minutes better than runner-up Gregg Buehler.
"I really love the venue," Rosenkranz said. "When I was in college I used to come out here and swim and goof around. It's kind of fun to bring up those old memories and reminisce a little bit."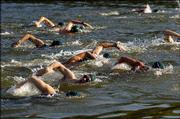 Rosenkranz, who now lives in Manhattan, ran cross country and track for KU during his time on campus, but often found himself injured and unable to run.
It was then that he joined the newly established KU triathlon club, and he has been hooked on the competition since.
While the first-place medal was nice, Rosenkranz admitted it wasn't the best prize that Lone Star had given him.
Rosenkranz met his wife, Sara, in the KU triathlon club.
The two have been married over 10 years.
"I remember one time - it wasn't really a date - but we did a ride from Lawrence out to here," Rosenkranz said. "I was thinking about that some as I drove in today."
Rosenkranz, who said he keeps a solid rhythm of training in hopes of competing in the Ironman Triathlon, was able to recuperate quickly after deciding to cycle 105 miles from Manhattan to Salina last weekend.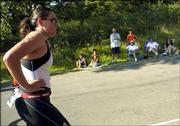 "I just totally cooked myself," Rosenkranz said. "That was last Saturday, and I've been trying to recover since then. I was hoping today with the heat I'd be OK. I just had to regulate and keep the pace reasonable so I didn't get in trouble."
Miki Bohon won the women's Olympic competition, finishing the .9-mile swim, 24.8-mile bike and 6.2-mile swim with a time of 2:39:48.
Chrissy Hilgers was second in 2:41:06.
In the shorter sprint triathlon, Allyn Smith took first-place honors with a time of 1:02:07.
Diane Hood won the women's sprint with a 1:07:25. Katie Barnoskie, a 2005 Lawrence High graduate who has been ranked nationally in her age division by USA Triathlon, finished second in 1:10:13.
Nearly 400 athletes competed in the first Midwest Mayhem Triathlon.
Copyright 2018 The Lawrence Journal-World. All rights reserved. This material may not be published, broadcast, rewritten or redistributed. We strive to uphold our values for every story published.