Tara Higgins found herself in the middle of just about everything Sunday at the AFA B National Fastpitch Tournament under-16 finals.
The right-hander pitched a complete game, drove in a run with a single and picked up MVP honors for her team, but even after the game was over she wasn't quite finished.
Along with a teammate, Higgins helped complete the storybook ending by drenching coach Brent Mills with a water cooler after her Tufco Heart Breakers' team defeated the Kansas City Impact, 2-0, in the finals.
"All through the year, he's been really hard on us," Higgins said of her coach. "He's showed how much he's cared by pushing us and driving us and making us do anything that we didn't want to do that would make us better. In the end, he got wet, and he got a little of it back."
The Tufco team lived up to its nickname, defeating the Impact for the second time in two days. The Impact won every game it played in the weeklong tournament.
"We all wanted it," Impact center fielder Meghan Dillon said. "We just couldn't pull it out in the end."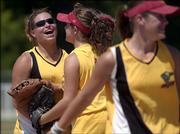 Higgins was a big reason for the Heart Breakers, pitching a complete-game shutout while allowing only four hits.
"They were tough hitters, and it was a challenge," Higgins said. "But I accept that challenge, and I really enjoyed it."
Tufco, a team based five hours away in Siloam Springs, Ark., finally broke through against Impact pitcher Carlene Bolton in the fourth. Haley Denton provided a two-out single, and Stephanie Bohall followed with an RBI double to make it 1-0.
Tempers flared somewhat in the sixth with a runner on first when Denton knocked down Impact second baseman Chelsey Patton while rounding second base on a double.
Patton had to leave the game with an injury, and umpires placed the two runners at second and third with none out.
Impact left fielder Robyn Russell followed with a diving catch, throwing to third for a double play, but Higgins came through with a single to give herself a 2-0 cushion into the final inning.
The Impact responded with its best scoring opportunity in the seventh. Maria Carr started with a double to left-center, and Meredith Nitcher, a replacement for the injured Patton, followed with a single to right.
But Heart Breaker catcher Sarah Seidner threw out Nitcher trying to steal second, and Bolton's long drive to center was caught one step in front of the fence.
A groundout to third ended the game and started the celebration for the Heart Breakers.
Dillon, whose father works as a lieutenant in the Douglas County sheriff's office, picked up MVP honors for the Impact.
"I'm proud of everybody," Dillon said. "The cool thing about our team is that we get along so well, even off the field."
The Heart Breakers ended their tournament undefeated.
"It shows how much we stay together," Higgins said. "We eat, sleep and breathe softball together. We're very much a team."
In the U-18 finals, the Southwest Hammers of Neosho, Mo., took the title with a 10-1 victory over the Paola Explosion.
The Mid-Missouri Ricochet took the 14-year-old championship with a 2-0 victory over the Missouri Intensity.
Copyright 2018 The Lawrence Journal-World. All rights reserved. This material may not be published, broadcast, rewritten or redistributed. We strive to uphold our values for every story published.