The state may be sending more funds to Lawrence schools, but that won't lower student fees. Not this year anyway.
"I believe in a free public education system, and this isn't quite free," school board member Craig Grant said. "It's a shame we couldn't get it done this year."
Student fees generate more than $1 million yearly for the school district, according to Supt. Randy Weseman. And Grant and some fellow board members said in the upcoming year they wanted to explore ways to eliminate or roll some fees back.
Meanwhile, many students must pay to ride the school bus, park their cars, use textbooks, play sports, march in the band and take certain courses.
A typical fifth grader who has to pay to ride the bus would pay $352 a year. That's $240 for the bus, $72 for textbook rental, $15 for instructional materials, $10 for technology, and $15 for activity trips.
The fees started three years ago when the district was crunched by reduced state support.
In some cases, the fees staved off program cuts, said Kathy Johnson, the district's finance director. She said some sports would have been cut if not for the fees. Since then, the district has come to depend on the money.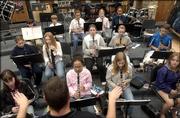 Some families simply don't pay, and their bills are sent to collection agencies. And about 30 percent of students who receive free and reduced priced lunches are eligible for waivers.
The basic cost for an elementary student is $112, which includes fees for textbook rental, instructional materials, technology, and activity transportation. Junior high and high school students pay a base fee of $162.
There are also fees to ride the school bus. The district in 2002 implemented a pay-to-ride system that charges kids who ride the bus and live within 2.5 miles of school. Weseman estimated the pay-to-ride fees generate about $250,000 annually.
In the fall of 2002, ridership dropped from about 2,800 students the previous year to 1,600 students. But those numbers later rebounded and last year about 2,970 students rode buses, said Rick Gammill, the district's director of special operations, transportation and safety.
Kelsey Bowman, a senior at Free State High School, said some of the fees were a pain. She said her mother drives her younger brother one way to cut down on the transportation costs. And she thinks the textbook fee is a bit high.
"You shouldn't have to pay that much money for a textbook if you're going to use it and turn it back in," she said.
The fees are related to the raging debate being haggled over by the Legislature and the state Supreme Court about what is considered a suitable education, said Joe Snyder, Free State principal. The community expects extracurricular activities and sports and others activities to be a part of the school system, he said.
"I think it's what the community expects," he said. "If you didn't have them, you'd have a real outcry."
And some parents say they are willing to pick up the tab.
"I understand that it's a necessary evil," said Tammy Frank, a parent of two students in the Lawrence district. "If it means giving my kids an appropriate education, I'm going to pay it."
Student fees for the Lawrence district
A look at some of the fees Lawrence schools students pay:
Textbook rental - $36 for kindergarten; $72 for grades 1-12 Instructional materials - $7.50 for kindergarten; $15 for grades 1-12 Technology - $10 for grades 1-12 Activity trip transportation - $7.50 for kindergarten; $15 for grades 1-12 Supplemental enrollment - $50 for grades 7-12 Participation (for a sport or activity) - $50 for grades 7-12 Co-curricular (for an activity such as marching band) - $15-$25 for grades 7-12 Pay-to-ride (for students who live within 2.5 miles of the school) - $120 for kindergarten; $240 for grades 1-12 Parking (at high schools and South Junior High School) - $10 Course fees - a range of costs from $5 to about $80 depending on the course
Credit-card and payment plans are available for most fees. Parking fees and activity tickets are not included in payment plans and are expected to be paid at the time of purchase. Pay-to-ride payments must be received by Aug. 8.
Copyright 2018 The Lawrence Journal-World. All rights reserved. This material may not be published, broadcast, rewritten or redistributed. We strive to uphold our values for every story published.