If matrimony had a hall of fame, the De Mott brothers would be prominently featured.
The oldest brother, Howard De Mott, and his wife, Cecelia, have been married for 62 years.
His younger brothers, John and Richard, have each been married for 59 years. That's 180 years of marriage among the three.
"My brothers and I are very loyal," Richard De Mott said. "Growing up in Kansas, we were taught to be faithful and committed to our loved ones. It was a commitment we didn't take lightly."
The brothers' childhoods weren't easy.
"I remember in the 1930s, we struggled to exist as a family," said Richard De Mott, 78. "Our dad worked as a watchman at a lumber yard there in Topeka and, later, in a rock quarry. When he'd come home, he'd work in the garden until dark and then we'd all gather and talk and listen to the radio and, after a while, go to bed."
He added: "I always felt that by being committed to each other, we would somehow survive. Marriage is the same way, I guess - I haven't thought much about this."
John De Mott, who lives in Lawrence, hasn't thought much about it either.
"I don't know what the secret is," he said. "I guess it's having a lot of patience, kindness and forgiveness - on both sides."
John and Vera De Mott's 60th wedding anniversary is Thursday. A reception is planned from 2 p.m. to 4 p.m. Aug. 7 at First Baptist Church, 1330 Kasold Drive.
"I can't believe I'm as old as I am, I can't believe we've been married as long as we have," said Vera De Mott, 79. "I certainly don't feel like I've been married 60 years."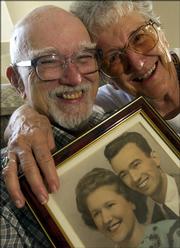 The De Mott brothers, their wives, and their families will gather July 29-31 for a multigenerational celebration at The Elms resort in Excelsior Springs, Mo.
John De Mott said he didn't know what to make of three brothers accumulating 180 years of marriage.
"I don't know of any other family that's done it," he said. "I guess all of us took our vows seriously."
"Quick fixes"
Today, for every two couples that marry in Kansas, one divorces. Half of the state's divorces occur within five years of marriage.
Clearly, the De Mott brothers have beat the odds.
"I'm afraid we're living in an age when people have come to expect quick fixes and immediate satisfaction in the challenges that accompany our daily lives," Eunice Ruttinger, director of adult services at Bert Nash Community Mental Health Center. "Marriage, unfortunately, is prone to neither."
Some of the De Motts' success, Ruttinger said, is likely due to the hardships their generation endured.
"Folks who went through the Great Depression and World War II have a different sense of what's important in life," she said. "And, of course, back then people were much more connected to their families and communities than they are now. Those connections, I think, help define a person's sense of commitment."
A life together
John De Mott met his bride in Kansas City, Mo.
"My parents moved to Kansas City my senior year," John said. "Vera and I graduated from the same high school, but we didn't know each other."
Their first meeting wasn't much of an encounter.
"A buddy of mine and I had been playing tennis and afterward decided to go to an ice cream shop down the street to get a malt," John explained. "Right as we got there, these two girls walked out, and I whistled at them as they were crossing the street."
Inside, John asked the shop's "soda jerk" if he knew the girls.
"He said he thought one of them went to the Baptist church on Summit Street," John said. "So I decided that's where I'd go to church."
Vera added: "He says he whistled, but if he did, we didn't hear him."
After two years at a Kansas City junior college, John transferred to Kansas University. A deformed right arm kept him out of World War II.
"I tried to enlist, but they wouldn't take me," he said. "I ended up in what they called the state guard. We were a ragtag bunch that tried to fill in for the guys in the real National Guard, who, of course, were over in Europe.
"We called ourselves the Fighting 4-Fs," John said, referring to the group's draft deferment status.
Graduating from KU in 1946, John went to work for the Kansas City Star, where he later covered the Flood of 1951, construction of the Kansas Turnpike and, he said, the "political scandals that come with covering city hall."
After 16 years with The Star, John returned to KU to teach journalism. In 1967, he joined the journalism faculty at Northwestern University in Evanston, Ill.
"Communication law was my specialty," he said.
John later taught at Northern Illinois University, followed by department chairmanships at Temple University in Philadelphia and Memphis University. The couple did not have children.
Throughout their travels, Vera taught courses in business education and, while in Memphis, sold real estate.
The De Motts had no interest in retiring in Memphis.
"Let's just say Elvis Presley didn't impress us much," Vera said.
John added, "And in Memphis, Elvis Presley is ubiquitous."
But Presley wasn't the city's only flaw:
"There was too much racism there," John said. "The university was a good place, but once you got off campus, there were things that weren't good."
Good and bad
Despite the negatives, the De Motts spent 12 years in Memphis. Their stay, perhaps, reveals part of their secret.
"There's good and bad wherever you go," Vera said. "The trick is to enjoy the good and let the other take care of itself."
All three De Mott brothers were and remain active in their respective churches.
Howard De Mott is a deacon at Oakwood Baptist Church in Kansas City, Mo. His wife, Cecelia, teaches Sunday school.
Richard De Mott was a Baptist pastor for 44 years. Now retired, he and his wife, Mary Ann, live in St. Louis.
John and Vera De Mott are well known in their church.
"They are a remarkable couple in every sense of the word," said the Rev. Marcus McFaul, senior pastor at First Baptist Church.
"For them, marriage is about peace, justice and reconciliation," he said. "It's not just about staying together to get the goodies."
Copyright 2018 The Lawrence Journal-World. All rights reserved. This material may not be published, broadcast, rewritten or redistributed. We strive to uphold our values for every story published.