Beth Bockover found a lump on her breast recently, a discovery that would send most women immediately to a doctor.
But Bockover - like a rising number of Kansans and Douglas Countians - doesn't have health insurance.
Thursday afternoon, she found herself visiting a nurse practitioner at Health Care Access, a Lawrence clinic that provides medical care for those who can't afford it.
"Without this place, I wouldn't do anything about it because I couldn't. I can't afford it," Bockover said of her pending tests and treatment. "And I'm a single mother, so I've got rent, bills and groceries to pay for every month."
A drywall worker and mother of three, Bockover is far from alone. Nikki King, the clinic's director, said Health Care Access was on track to see more than 1,300 individuals this year - up from 907 in 2004.
New figures released by the U.S. Census Bureau on Thursday also suggest a rise in the number of uninsured local and state residents. The bureau reported that 12.1 percent of Douglas Countians and 12 percent of Kansans lack coverage; both figures were lower than the national average, but higher than previous estimates.
State officials said the report signified the urgency of the health care problem.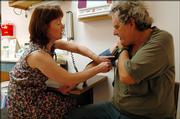 "When you've got 300,000 of your citizens who are uninsured and don't have access, that's not acceptable," said Charlene Bailey, a spokeswoman at the Kansas Insurance Department.
Rising numbers
King said a previous study showed less than 10 percent of Douglas and Shawnee countians, combined, lacked health insurance. And a 2001 study by the Kansas Insurance Department suggested that 10.5 percent of state residents were uninsured.
Barbara Langner, an associate professor in the School of Nursing at University of Kansas Hospital, oversaw that state study. She said methodology might account for the discrepancy between her report and the Census estimates.
But she added, "I think the problem is more serious."
Recent surveys of small businesses in Kansas show many are struggling to provide health insurance to employees - and that some workers are getting squeezed out of benefits as a result.
"I think we probably have more uninsured today than we did four years ago when we had the survey," Langner said.
That doesn't surprise King, who sees evidence every day that the number of uninsured local residents is growing.
"We know the population is there, and they do want a quick appointment when they find us," King said.
The new numbers may underestimate the problem. In 2004, an organization called Families USA suggested that 26 percent of Kansans lack health insurance. The organization at the time said the Census estimates count only people who have spent a year without insurance - overlooking those who might lack coverage for just a few months.
Taking action
State officials say they're working to tackle the issue.
Bailey said the insurance department was sponsoring a Health Care Cost Containment Commission to bring health costs under control. On the table: tax incentives to small businesses that provide insurance and streamlined processes for doctors to receive credentials from insurance companies.
"The (vast majority of) people who are uninsured aren't sitting at home," Bailey said. "They're working Kansans - hard-working Kansans."
Nicole Corcoran, a spokeswoman for Gov. Kathleen Sebelius, said the state was also working to enroll 40,000 children in the Medicaid and Health Wave programs and provide prescription assistance for low-income Kansans, among other efforts.
King said the health care provided by her clinic might help alleviate the problem. Seventy percent of clients, she said, have jobs but can't afford coverage.
"If we can increase our capacity to see more patients, they're going to stay healthy, stay employed," she said, "and maybe get better jobs so they can get better insurance."
Copyright 2018 The Lawrence Journal-World. All rights reserved. This material may not be published, broadcast, rewritten or redistributed. We strive to uphold our values for every story published.