Work to replace century-old water lines won't stem the flow of thousands of bargain hunters pouring into downtown Lawrence for Thursday's annual Sidewalk Sale.
City officials simply won't stand for it - and they've put it in writing, in the $780,783.95 agreement with Goddard-based Nowak Construction Co. Inc.
"It's in the contract: They're not able to work on that date," said Debbie Van Saun, assistant city manager, of the monthslong project that has diverted traffic along Sixth Street and away from portions of Massachusetts Street. "We don't operate our projects in a vacuum. We're sensitive to the community, and the needs of the community.
"The Sidewalk Sale is important to this community, and we planned this all along."
With construction crews out of the way, more than 150 retailers, restaurants and nonprofit organizations will be unfettered in their annual rite of setting up tables, shelves and tents along sidewalks in the central business district. The sale runs from sunup to sundown, with most of the activity along Massachusetts Street, from Sixth to 11th streets.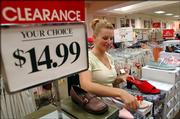 Their goal: Sell as many winter coats, women's shoes, dinner plates and anything else they can, as fast as they can, so that they can bring in new merchandise for the fall season.
"It's basically to make room for new inventory," said Maria Martin, owner of Southwest and More, 727 Mass., and president of Downtown Lawrence Inc., the event's organizer. "It's an opportunity to offer customers a good deal and great bargains - and to put it all in an outdoor, open marketplace, bazaar-like setting."
Martin said she had returned calls about this year's sale from throughout the Topeka and Kansas City metro areas, with a few stretching into Lincoln, Neb., Iowa City and other regional communities.
"It's amazing how many people come down," she said. "People know it's always the third Thursday in July. They just mark their calendars and take a vacation day."
Earl Reineman, vice president of Weaver's Department Store, is among the retailers who count on the rush of shoppers to help beat the financial heat of summer. Thursday's sales will be expected to rival the busiest of days during the Christmas shopping season, even with the majority of products on the street marked down 50 to 75 percent.
Sidewalk sale
What: 34th annual Sidewalk Sale.
When: Thursday, sunup to sundown.
Where: Downtown Lawrence, generally along Massachusetts Street from Sixth to 11th streets.
Who: More than 150 retailers, restaurants and nonprofit organizations. All are either members of or licensed by Downtown Lawrence Inc., the event's organizer.
"It's by far our best sale of the year," said Reineman, preparing to work his 17th Sidewalk Sale. "And by far, this would be the day where we sell the most items. The prices are so low, we have to sell thousands and thousands of items to reach that kind of volume. We're probably selling three times as many items as we do on days of comparable (sales) volume close to Christmas."
All 60 Weaver's employees will be on the clock during the day. Workers will be on hand to help with the traditional early-morning rush on bath towels, bedding and other linens while others will help with cleaning after the sun sets.
"It's going to be a great day," Reineman said. "It always is. It's one of those things that just happens."
Chain link fences along the west side of the 600 block of Massachusetts Street are scheduled to be taken down in time for the sale, Van Saun said. The moves will improve visibility and access to Gap, American Eagle Outfitters, newly arrived Chico's and other shops.
After the sale, the fences will move across the street to make room for workers installing new electrical lines, Van Saun said.
"They're at that convenient junction," she said. "Having the crews to not be working in the street that day was the plan all along."
Copyright 2018 The Lawrence Journal-World. All rights reserved. This material may not be published, broadcast, rewritten or redistributed. We strive to uphold our values for every story published.