The Royals have been Christian Iles' motivation for learning life skills like reading.
But most importantly, they have been the 6-year-old's inspiration to learn how to play baseball.
Iles learned how to read, with help from his mom, by reading the Royals magazine. But Saturday at Arrocha ballpark, Iles and 125 other youths had the opportunity to learn baseball from the former Major Leaguers at the third annual HyVee Royals Youth Baseball camp.
Not only was the camp a hit with the players, parents shared the excitement of the camp because they could see the players they used to watch play for the Royals when they were growing up.
Most of the players who helped at the camp played for the Royals well before the camp participants were born. But the campers still heeded the instruction - and got autographs -- from former Royals players such as Marty Patton, John Mayberry and Les Norman.
The group, which includes longtime voice of the Royals Fred White, travels around the region and facilitates baseball camps for players aged 6 to 12. They share their love for the game by helping the young players develop fundamental skills.
"They work on specific and basic skills," Kim said. "This is the guts of baseball."
They brought an approachable and personal touch to the instruction of skills such as catching a pop up in the outfield and fielding a ground ball.
"They were really encouraging," Sterling Ozark said of the former Royals players. Ozark said he especially liked learning how to run the bases and field a grounder.
At the camp, the young players rotated around stations anchored by the big leaguers and players from Free State High School. The stations focused on aspects of the game like pitching, running the bases and making plays in the field.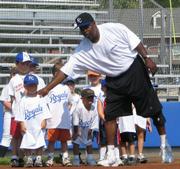 Christian, like many of the players, was especially drawn to the opportunity to work one-on-one with professionals. His family has season tickets and has gotten to know many of the current Royals players from going to games.
"This is the ultimate baseball experience for him," Kim said. "He wants to do anything baseball."
Providing an opportunity to share the baseball atmosphere is key for many of the veterans of the game.
"Baseball is what America is all about," said Mayberry, who played for the Royals for six seasons. "And hot dogs always taste good at the end of the day."
Copyright 2018 The Lawrence Journal-World. All rights reserved. This material may not be published, broadcast, rewritten or redistributed. We strive to uphold our values for every story published.