Strike up the band and have a birthday party every year.
That's what Clenece Hills said Lawrence should do instead of waiting another 50 years to have a big community birthday party celebrating the town's founding.
Hills, president of the Lawrence Sesquicentennial Commission, the group behind the city's 150th birthday party bash last September, said she is hoping city commissioners can find an extra $4,000 per year in the city budget to host an annual birthday fest the third Sunday of each September.
"I know that Lawrence has a lot of civic pride and doesn't need another event to generate pride, but it would be nice to have an event that focuses in on a particular piece of our history - the very beginning of our community," Hills said.
Hills said she hopes the party can begin this year with a special Lawrence City Band Concert on Sept. 18. If commissioners approve, Hills said the concert likely would be in South Park during the late afternoon. In future years, the event could be moved to Sesquicentennial Point, an in-the-works city park near Clinton Lake.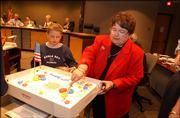 In time, the celebration could grow to include an art show, food vendors and an event that Hills envisions as Art in the Air - a show of kites, wind socks, hot air balloons and other devices riding the frequent winds that blow at Sesquicentennial Point.
City commissioners will hear more details during a budget session at 10 a.m. Wednesday in Lawrence Memorial Hospital.
The city has rarely celebrated its founding date of Sept. 18, 1854. The city had an extensive sesquicentennial celebration in 2004, culminating with a parade and giant birthday cake. But prior to that celebration, Hills said her research indicated the last event was in 1954, when the city celebrated its 100th birthday.
That's not often enough, she said, especially given all the youngsters and new residents who may not know how the town's founding shaped events leading to the Civil War.
Bob Newton, longtime announcer for the Lawrence City Band, said he thought a special concert might be a good way to celebrate.
"I know the concerts we have now are hugely popular," Newton said. "What I used to notice is that the first concert of the summer used to be sparsely attended, and then it would grow. But this year, it has been a big crowd from the very beginning."
A specific plan for how the $4,000 for the birthday party would be spent hasn't been developed yet, but would be provided to commissioners if they are interested in the idea. Hills said there are expenses related to putting on a concert, including paying people to set up sound systems and marketing expenses.
Copyright 2018 The Lawrence Journal-World. All rights reserved. This material may not be published, broadcast, rewritten or redistributed. We strive to uphold our values for every story published.