Whenever sheriff's deputies stop by Gary Kroeger's store in Lecompton for a sandwich or snack, they don't let on what they know about the unsolved killing a few miles away.
"They are close-mouthed," Kroeger said as he stood behind the counter Friday at Kroeger's Country Meats, 505 Eisenhower Memorial Drive.
Still, customers often ask Kroeger if he's picked up any news on the death of 77-year-old Clarence David Boose.
"I've heard so many theories, you wouldn't believe. I've heard everything," Kroeger said. "I think a lot of people are just hoping it's not somebody local or something like that, because he was so well-liked."
Boose, a retired jeweler who was skilled at restoring musical instruments, was found dead April 29 inside his ranch-style home at 194 North 2190 Road. The Douglas County Sheriff's Office has followed at least 150 leads but has not released anything about the cause of death or possible suspects, saying it might jeopardize the investigation.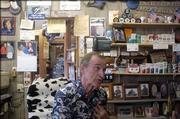 "It's those things in the investigation that help us when only certain people know about it," Sheriff Ken McGovern said. "That can help us make the case."
Boose's family members also have declined comment, saying it's what police have asked them to do.
Some neighbors have speculated the death was related to traffic on the winding, rural road, which leads into Topeka. The road has been the repeated site of violent crimes in past decades, including the 2002 shooting of a Topeka man involved in a drug-dealing ring.
Kroeger, 63, said that before Boose retired from his job as owner and operator of David's Jewelers in Topeka, he came into the store several times per week. The two shared an enthusiasm for music, jewelry and restored cars.
"You couldn't help but like David. He was always in an upbeat mood, always friendly, always glad to see you," Kroeger said. "He was always dressed impeccably, and he would visit with everybody out on the deck."
A handful of residents interviewed Friday said they weren't unusually concerned for their safety and weren't upset that the sheriff's office wasn't releasing more information.
"I feel like it's being kept quiet for a reason," said Karen Orr, 37, who was sitting on her front porch with her 17-month-old daughter, Ronna. "I don't think that indicates that nothing's being done."
Leroy Boucher, the Lecompton fire chief, was eating a sandwich in Kroeger's with his wife, Jeanne. He said he had faith in the sheriff's office.
"They'll get it solved. It may take a year or two," he said. "I'd rather they stay quiet and do it right than everybody start blowing and the guy or gal gets away."
McGovern said residents in the area shouldn't hesitate to call if they see anything suspicious and should take normal precautions.
"Coming home and leaving, make sure things are locked up," he said. "Be aware of seeing unfamiliar vehicles or people in the area."
When asked how confident he was that the case would be solved, McGovern said, "We're always confident that we'll solve it."
Copyright 2017 The Lawrence Journal-World. All rights reserved. This material may not be published, broadcast, rewritten or redistributed. We strive to uphold our values for every story published.