As a partner in a family farming business, Shawn Pine Bay has a habit of seeing the bright side of agricultural matters - especially when it comes to factors she can't control.
So it's no wonder she's smiling even while she ponders parched sales from her business' 2004 sod harvest, which rivaled the slowest year for turfgrass at Pine Family Farms since the 12 months following the 9-11 terrorist attacks.
"There's always a positive side to everything," she said last week, back in the office after an extended break from the farms' daily operations. "The positive side to last year's drying up was it gave us a chance to catch up with getting all our fields seeded. Things are really going strong now.
"It wasn't a good year last year, but we're grateful to have good sod supplies going into fall."
And so it goes.
The folks at Pine Family Farms, with 350 acres dedicated to growing fescue and bluegrass turfgrass, are busy enduring the stifling summer months and looking forward to the cooler temperatures of autumn. That's when prime conditions return for seeding, sodding and otherwise moving thousands of rolls of sod - the green blades shooting from shallow roots clinging to tons of fertile riverbottom soil, the raw materials for lawns and landscaping from the outskirts of Topeka to North Kansas City and points in between.
The sod operation's owners are thankful to reach so far.
Although dozens of new homes have been hitting the market in recent months, Lawrence's residential and commercial construction continues to lag far behind its normal levels. And that has Pine Family Farms trucking its sod to fast-growing communities nearby, including Tonganoxie, Basehor, Leavenworth and Parkville, Mo.
At home, abroad
Recent upgrades at Lawrence's Alvamar Country Club and planned reconstruction at Lawrence Country Club have secured the Pines some hefty jobs close to home, said Roger Pine, another partner in the business and Pine Bay's father.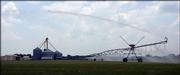 But the easing residential growth in town - home construction is off to its slowest start in more than two decades - has left the family relying even more on its expanding network of customers.
"We're fortunate to have a market here close to us," said Pine, a Republican state senator back on the farm last week after working through a special legislative session on school finance. "This doesn't work for everything. We're just fortunate."
The sod business represents a growing portion of Pine Family Farms, which spans nearly 3,500 acres in the area.
In part, the increased emergence of sod is involuntary. The Pines' collection of company-owned and operated farm fields is shrinking, as urban communities push - even slowly - into the surrounding rural areas, absorbing farm ground for future houses, schools and businesses.
Pine Family Farms has lost about 300 acres during the past five years but still boasts a strong lineup of row crops: about 1,800 acres this year of corn, 1,200 acres for soybeans and 200 acres for wheat, including some that has been double-cropped.
Growing viability
The sod side, meanwhile, has firmly taken root. After seeding their first 30-acre sod field nearly eight years ago, the Pines have watched their turfgrass segment become more appropriate for the market.
"We're well located, where we are now, to try to respond to (development pressures) with something that our urban cousins need," Pine said. "And we can do that by using fewer acres than we would need for traditional crops. We can have a viable business for a longer period of time, in this area, with turfgrass."
The farm business is based at the edge of North Lawrence, about a half mile east of Teepee Junction along the north side of the Kansas Turnpike. It's an area where the largest patch of sod is grown, offering passersby long glimpses of green - even at more than 70 mph.
Millions of people see the fruits of their work. Pine Family Farms sells sod to Kansas Speedway, where the infield requires constant maintenance because of its high-profile position during Indy Racing League and NASCAR events.
"We like for them to do wheelies out there," Roger Pine said, laughing at the thought of cars veering of the 1.5-mile track and tearing up the grass. "That's just fine with us."
Crossing the line
The speedway typically orders fescue by the truckload, but the complex is the exception among customers in metro Kansas City, Pine Bay said. Many residential, commercial and institutional customers in that area order bluegrass, a variety that accounts for about 40 percent of Pine Family Farms' business.
Tall fescue - its fine blades known for offering hearty resistance to drought, disease and other harsh conditions - is the variety of choice for most builders, landscapers and others in the Lawrence area, she said.
"There's an imaginary line, and it lies about De Soto," Pine Bay said. "Everybody west primarily uses fescue, and everything east tends to go with bluegrass."
The business, with about a dozen employees, doesn't harvest sod unless it has an order in hand. The rolls of turfgrass - each measuring one square yard and weighing anywhere from 40 to 55 pounds - are delivered soon after cutting, because the "living, breathing item" won't last long without water, Pine Bay said.
These days, about 100 acres of Pine Family Farms' dedicated sod fields are open, awaiting new plantings. That will come in August or September, when growing conditions improve.
Until then, the Pines will continue taking orders, rolling up grass and loading it onto trucks for delivery - whether it's for a new home going up in Lawrence, a repair job at the speedway or a commercial project taking shape as far as 90 miles away.
This year already is shaping up to be an improvement on 2004, Pine Bay said, but even her persistent optimism gives way to an even stronger tenet of agriculture: realism.
"Sales have been strong to this point, but it can change on a dime," she said. "We can't survive on half of the year doing well. That's not what makes a business work right or be successful. There are few things in the farming business - and it's the same in the sod business as well - that are certain."
Copyright 2018 The Lawrence Journal-World. All rights reserved. This material may not be published, broadcast, rewritten or redistributed. We strive to uphold our values for every story published.