Lebanon, Ohio — One step at a time in Michelle Wie's quest for the Masters.
Her hopes for next year ended Friday when Clay Ogden birdied four of the first five holes and eased to a 5-and-4 victory in their quarterfinal match at the U.S. Amateur Public Links.
The 15-year-old high school junior needed to win the tournament to become the first woman to get an invitation to the Masters.
Instead, she'll have to settle for being the first woman to qualify for a men's USGA event. At least for now.
"Obviously, I'm disappointed, but it's not the end of the world," Wie said.
Wie shot rounds of 76 and 72 on Monday and Tuesday to make the 64-player field for match play. She dispatched her opponents in her first three matches before running into Ogden, a junior at Brigham Young from West Point, Utah.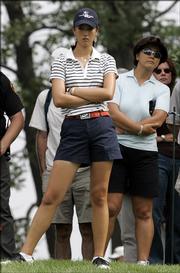 "I don't feel like I have proved anything," she said.
Ogden was 4-up after the first five holes and never let up.
The lead swelled to 5-up at the turn when Wie's approach at No. 9 hit a tree and bounced back into a lake. It was one of the few mistakes she made.
"It's hard to beat birdies," Wie said. "It wasn't like I was playing bad. I was losing with a lot of pars. He played really great."
She won her only hole when Ogden bogeyed No. 10, but Ogden came right back with a birdie to win the 11th and closed out the match three holes later.
On the deciding hole, Ogden missed the green, but his chip from the rough landed softly on the green and rolled to less than a foot from the pin. Wie conceded the putt and the two shook hands.
Asked what she learned from the match, Wie said, "You have to make lots of birdies and give your opponent no chance."
Ogden, who lost to eventual champion Ryan Moore 2-and-1 in the quarterfinals a year ago, relied on his experience. His victory over Wie moved him into a semifinal against University of Wisconsin junior Garrett Jones, who defeated Indiana University senior Brad Marek, 4-and-3.
Several hundred people again followed Wie everywhere she went, cheering on every one of her shots and groaning when her putts slid past the hole. There was a smattering of applause when Ogden missed his par putt at No. 10.
Ogden said the crowd didn't make him nervous.
"That's just my demeanor," he said. "I never get too excited over anything."
Copyright 2018 The Associated Press. All rights reserved. This material may not be published, broadcast, rewritten or redistributed. We strive to uphold our values for every story published.