Detroit — Nate Robertson's teammates knew he deserved to win a game at home.
On Friday night, it finally happened.
Ivan Rodriguez hit a two-run homer and Robertson ended his season-long drought at Comerica Park as the Detroit Tigers beat the Kansas City Royals, 4-1.
"This is great," said Dmitri Young, who also homered for the Tigers. "Nate has gone out there all season and given us his all with no run support."
Robertson (4-7) won for the first time in nine home starts, giving up one run and five hits in five innings. He is 1-4 at Comerica Park with a 2.50 ERA.
"It feels good," Robertson said. "I'll take any win I can get at this point. I would have liked to go more than five innings, but give the Royals credit. They were aggressive and made me throw a lot of pitches."
Robertson got plenty of help from Detroit's bullpen, especially Fernando Rodney, who struck out a career-high seven in his three-inning stint.
"He was lights-out," Robertson said. "He's a very special pitcher when he has things going - he throws so hard and then he's got a change that's 15 or 18 miles slower."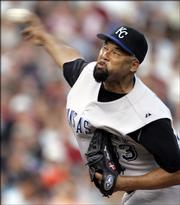 Kyle Farnsworth pitched a scoreless ninth for his second save. He took over as Detroit's closer when Troy Percival went on the disabled list Thursday because of an elbow injury.
Jose Lima (2-8), scheduled to start tonight, was moved up a day to replace D.J. Carrasco, who was a late scratch because of tightness in his shoulder. Lima allowed four runs - three earned - and nine hits, including two long homers, in six innings.
"I only found out about 45 minutes before the game," he said. "It's not a problem, because I have a rubber arm, but I played 18 holes of golf today. I would never do that on the day I pitch."
Detroit went ahead 2-0 in the second on Rodriguez's 415-foot homer over the bullpens in left. Rodriguez his only six homers before the All-Star break, but finished second to Bobby Abreu in Monday's Home Run Derby.
Joe McEwing's first homer in 14 months made it 2-1 in the third, but the Tigers scored an unearned run in the fourth.
Rodriguez singled, moved to third on Craig Monroe's single and scored when second baseman Ruben Gotay booted Brandon Inge's two-out grounder.
"That one hurt us," Royals manager Buddy Bell said. "If we make that play, we're still right in the game."
Young's 16th homer, a 432-foot drive to right-center in the sixth, gave the Tigers their 4-1 lead.
Copyright 2018 The Associated Press. All rights reserved. This material may not be published, broadcast, rewritten or redistributed. We strive to uphold our values for every story published.