Boston — Trot Nixon chugged around the bases for an easy inside-the-park homer as center fielder Melky Cabrera chased the ball to the wall.
There was no way the New York Yankees were going to catch the Boston Red Sox, either.
Boston beat New York, 17-1, for the second time this season, pounding two pitching newcomers Friday night and getting seven strong innings from former Yankee David Wells.
"You've got to get outs, regardless, no matter how big the lead is," said Wells (7-5). "Especially with a team that can come back and put a 10-spot on you."
It was the Red Sox who reached double figures, and they did it after just four innings with a 12-1 lead. They led 3-0 after one inning - two scoring on Nixon's double - against Tim Redding (0-1), then added two runs in the second before Nixon hit a low liner to center that tipped off Cabrera's glove as he was charging in and rolled to the wall.
Nixon thought the ball would be caught but "it must have been knuckling out there," he said. Shortstop Derek Jeter didn't even bother to throw home after taking the relay.
"Once I saw the ball get by (Cabrera) and I got to second, I don't think I took a breath til I got to home," Nixon said. "It was like a tractor pull out there from second to home. I felt like passing the baton onto Dale (third base coach Sveum).
Leadoff hitter Johnny Damon reached safely in each of the first four innings, extending his hitting streak to 27 games. David Ortiz added a grand slam for the Red Sox.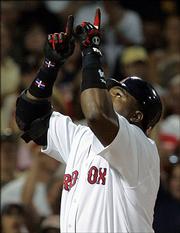 Athletics 7, Rangers 2
Oakland, Calif. - Barry Zito took a no-hitter into the eighth inning, and Jay Payton hit a two-run homer on his first swing for Oakland. After Rich Harden took a perfect game into the eighth inning of an 81-pitch two-hitter Thursday, Zito (7-8) was nearly flawless until Kevin Mench homered with one out in the eighth - the same spot where Harden's perfection ended.
Eric Chavez hit a three-run homer and Nick Swisher also connected to back eight innings of two-hit ball by Zito.
White Sox 7, Indians 1
Cleveland - Freddy Garcia pitched seven strong innings, and Pablo Ozuna had a career-high four hits to help Chicago defeat Cleveland.
Chicago scored four runs in the first inning off C.C. Sabathia (6-6) and Garcia (9-3) made it stand up. The right-hander allowed only six hits and three walks to improve to 6-0 in 11 starts since losing to Baltimore on May 14.
The White Sox improved to 28-5 against AL Central teams, including 8-3 against Cleveland.
Angels 3, Twins 2
Minneapolis - Darin Erstad had two hits, two runs and an RBI, Paul Byrd pitched seven innings, and Los Angeles defeated Minnesota. Steve Finley drove in a run and stole a homer from Joe Mauer with a leaping catch above the center-field wall for the Angels, who equaled a season high with five straight road wins.
Blue Jays 11, Devil Rays 6
Toronto - Shea Hillenbrand homered to highlight a six-run third inning, and Toronto ended a four-game losing streak with a victory over Tampa Bay.
Orioles 6, Mariners 3
Seattle - Rafael Palmeiro collected his 3,000th career hit, doubling in a run in the fifth inning before adding a sixth-inning single. Melvin Mora and Sal Fasano each hit solo home runs for the Orioles, who remained one game behind first-place Boston in the AL East. Rodrigo Lopez (8-5) pitched 51â3 innings for his second straight victory.
Copyright 2018 The Associated Press. All rights reserved. This material may not be published, broadcast, rewritten or redistributed. We strive to uphold our values for every story published.