Female bobcat killed on road
A full-grown female bobcat was struck by a car early Friday evening in south Lawrence - a fairly unusual event, according to an area game warden.
Photo Gallery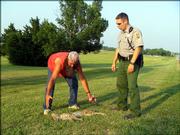 Bobcat killed on road
"You don't see them too often, not as road kill," said Justin Koehn, a conservation officer for the Kansas Department of Wildlife and Parks.
Koehn retrieved the bobcat about 7:20 p.m. It was lying on the grass just off 31st Street about a half mile west of Louisiana Street. As he carried it to his pickup truck, he estimated the animal weighed about 20 pounds.
Koehn said he would see if someone in his department would want to mount it or use it for canine training.
Glenn Rosebrough, a Lawrence drywall carpenter, saw the animal as he drove by and stopped to inspect it.
"I just hate to see that," Rosebrough said. "I love wildlife."
Court
Miller ordered not to sell home, contents
A judge has ordered convicted murderer Martin K. Miller not to sell his home or remove items from it as he awaits sentencing for strangling his wife.
The order, entered last month in Douglas County District Court by Judge Michael Malone, was filed at the request of an attorney overseeing the finances of Miller's children.
It prohibits Miller or anyone acting on his behalf from selling the family's home at 2105 Carolina St. or taking items out of it. Malone also ordered Miller to provide an accounting of everything removed from his home since Mary Miller's death in July 2004.
Jurors last month convicted Miller, a 46-year-old carpenter and former Christian-school leader, of strangling Mary Miller during the night.Prosecutors alleged he killed his wife so he'd be free to pursue sex with other women.
Miller is scheduled to be sentenced Wednesday and is facing life in prison with no possibility of parole for 25 years.
Man receives probation in November attack
The last of three men charged in a vigilante-style attack at a glass-blowing business has been ordered to probation.
A judge Friday sentenced Brendon B. Hodgson, 23, to 12 months of probation for attempted aggravated assault and making a criminal threat. He also will spend 12 months on probation for a previous marijuana-possession case.
Prosecutors alleged that on Nov. 26, Hodgson and two others assaulted a man they suspected had burglarized their yet-to-open glass-blowing shop at 311 N. Second St., stealing $24,000 in glassware.
Police said the men lured the suspected burglar to the business, surrounded him, squeezed him with a bear hug until he passed out, restrained him in a chair and told him they would break his knees with a metal rod.
Hodgson's co-defendants, Brian J. Hawk, 23, of Kansas City, Kan., and Christopher J. Kerner, 28, of Lawrence, entered pleas earlier this year and were sentenced to probation.
Online
Lawrence-based Internet forums down
Online political arguments came skidding to a halt Friday in Lawrence.
Two local Internet forums - Larryville.com and RiverCityTalk.com - both went offline Friday morning. Officials with both sites promised they would return to action soon.
At Larryville, administrator Lori Learnard Robinson said the site was being moved to a new server and would reopen Sunday or Monday.
"We're overusing server capacity," Robinson said. "We should have it back up in the next couple of days."
Marion S. Lynn, an administrator of RiverCityTalk, said his site's problems were related to a programming error.
RiverCityTalk should be up and running today, he said.
Schools
Officials hope to keep programs
Local officials hope to keep several school initiatives, including the Working to Recognize Alternative Possibilities program running after the pending loss of major support.
In one year, a federal three-year grant of about $8.5 million will lapse. Officials convened Friday to launch discussions on how to sustain the programs.
The Lawrence school district was one of a few districts in the nation to receive the Safe Schools/Healthy Students grant.
It has helped support the WRAP program, after-school and early childhood services, Big Brother/Big Sister programs, and drug and alcohol prevention efforts.
Copyright 2018 The Lawrence Journal-World. All rights reserved. This material may not be published, broadcast, rewritten or redistributed. We strive to uphold our values for every story published.