Leeds, England — Police in Cairo detained a biochemist who studied in the United States and taught at a university in Leeds - the home base for at least three of the London bombers. Investigators in Britain raided an Islamic book shop and the Egyptian's home, searching for explosives and other evidence Friday.
In another sign of the investigation's widening global reach, Metropolitan Police Commissioner Sir Ian Blair said authorities were trying to determine whether any of the four "foot soldiers" - suicide bombers who ranged in age from 18 to 30 - had ties with Pakistan-based cells of the al-Qaida terror network.
In an interview with BBC radio, Blair said the inquiry was focusing on the organizers of the four London suicide attacks, which killed 54 people, and confirmed police were focusing on a Pakistan connection. Three of the bombers - Shahzad Tanweer, Mohammed Sidique Khan and Hasid Hussain - were Britons of Pakistani origin. At least two had traveled to Pakistan.
Two senior Pakistani intelligence officials said Friday that authorities in that country were looking into a possible connection between Tanweer and two al-Qaida-linked militant groups, and specifically a man arrested for a 2002 attack on a church near the U.S. Embassy in Islamabad.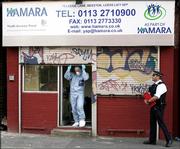 Police on Friday raided a shop called Iqra Learning Centre in Beeston, a Leeds neighborhood. The shop appeared to sell Islamic books and DVDs and offer seminars and presentations.
The Learning Centre is about four miles from Egyptian chemist Magdy Mahmoud Mustafa el-Nashar's town house, where British news media reported that police found evidence of the explosive TATP inside a bathtub.
Egypt's Interior Ministry announced Friday that Egyptian authorities were interrogating el-Nashar, who studied at North Carolina State University and the University of Leeds. It said el-Nashar denied having any connection to the attacks.
In Cairo, a government official said el-Nashar, 33, was arrested in the Egyptian capital on Sunday or Monday after British officials informed Egypt of their interest in him. The official spoke on condition of anonymity because he was giving information not in the official ministry announcement.
But el-Nashar's youngest brother, Mohammed, said he was arrested Thursday when he went to a local mosque to pray but didn't return.
It was unclear why there was a discrepancy between the two accounts.
Copyright 2018 The Associated Press. All rights reserved. This material may not be published, broadcast, rewritten or redistributed. We strive to uphold our values for every story published.