Houston — An arena that basketball fans once packed to see the NBA's Houston Rockets is about to take on a new role - home to the largest congregation in the nation.
Lakewood Church, led by televangelist and best-selling author Joel Osteen, has grown so much in recent years that today it expands into a new building: the former Compaq Center.
The arena was home to the Rockets when they won two league titles in the 1990s and the Houston Comets of the WNBA when they won four. It now seems fitting that "discover the champion in you" has long been the church's slogan.
"It all ties in together," Osteen says. "Many sports champions have been crowned there, and we believe we can crown champions in life."
Lakewood, a nondenominational Christian church, recently became the first congregation in the country with an average weekly attendance of more than 30,000 for its services, said John Vaughan of Church Growth Today, an organization that studies megachurches, based in Bolivar, Mo.
Now the Lakewood Church Central Campus will seat 16,000 people, about twice the capacity of its current sanctuary, with parking spaces outside for 8,000 vehicles.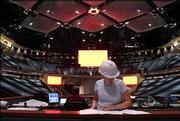 With more elbow room, Lakewood will now reduce its weekend English language services from four to three, though it will continue a weekly Spanish language service.
Critics have sometimes taken Osteen to task for downplaying the sinful nature of humanity and the need for repentance. An article this week in the liberal Protestant magazine The Christian Century calls Osteen an "easy theological target" who turns the language of the Scriptures "into a vague religiosity, or into more digestible categories of self-help and self-improvement."
But there's no denying his success.
Lakewood, which first opened in an abandoned Houston feed store in 1959, has grown almost fivefold since Osteen took over the church in 1999, shortly before the death of his father, former pastor John Osteen.
The facility, which took 15 months and about $75 million to complete, features two waterfalls, three gargantuan television screens and a lighting system that rivals those found at rock concerts.
Two choir lofts with 12 rows of rich purple pews sit between the waterfalls, accented by live foliage.
Absent, however, is a cross, an image of God or Jesus Christ or any other traditional religious symbols. Osteen said his father never displayed such symbols and he simply continued the tradition. Instead, the new location will feature a larger version of the church's trademark globe, rotating slowly behind Osteen as he preaches.
Osteen is viewed by more people than any preacher in the United States, reaching 95 percent of all households, according to Nielsen Media Research. He is seen nationwide on cable networks including Daystar, USA, Discovery, ABC Family, PAX and Black Entertainment Television. He is also seen in more than 100 countries.
His book, "Your Best Life Now: 7 Steps to Living Your Full Potential" has sold almost 3 million copies and has been on The New York Times' best seller list since its October release.
Copyright 2018 The Associated Press. All rights reserved. This material may not be published, broadcast, rewritten or redistributed. We strive to uphold our values for every story published.