With the first day of school about four weeks away, the Lawrence district's bus service is hunting for bus drivers.
Finding good candidates for a job with unusual part-time hours, moderate wages and a lot of responsibility is a perpetual challenge, said Wayne Zachary, head of driver development and safety for Laidlaw Education Services, the company that provides transportation for the school district.
And accidents, such as the May crash in Liberty, Mo. that killed two people, don't help increase the allure of bus driving. That crash involved a school bus carrying 53 children.
Such accidents make some drivers pause.
"I think it gives them a second thought," Zachary said.
The company needs nine drivers, but will take more if there are additional applicants.
"This is a normal trend," he said.
The company recently started advertising its openings in the media, on its answering service and on fliers it distributes in public places. Even if it doesn't get any additional drivers, students can expect to see buses ready to pick them up on the first day of school, Zachary said. The company's office and mechanical staff are qualified to drive. And routes can be combined if necessary.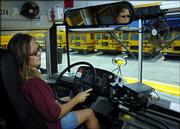 "We make it work," he said.
Popular misconceptions about bus drivers are part of the struggle in finding new hires, Zachary said.
Some people imagine the students are little terrors who are loud and disruptive. But, actually, Lawrence kids are pretty good most of the time, Zachary said.
And the hours can be difficult for some. Bus drivers typically work two hours in the morning and two hours in the afternoon.
They earn between $10 and $12.75 per hour, and get eight paid holidays.
To qualify for the job, a bus driver must:
¢ pass a Department of Transportation physical;
¢ have a good driving record;
¢ pass criminal background checks;
¢ pass written and driving tests for a commercial driver's license.
"It's a serious job," Zachary said. "We have people who don't make the cut."
But there are rewards. June Hagenbuch drove a bus in the Lawrence district for 30 years before retiring this year.
"I highly recommend the bus-driving job," she said.
She could fill a book with all her memories.
"I'm a gray-haired kid myself," she said. "I've been lots of places in a school bus that I've never been privately."
Hagenbuch drove a bus to the Pan American Games in Indianapolis in the 1980s. And about 10 years ago, she drove a charter for local kids who went on a trip to the Colorado Rockies.
"I'll never forget it," she said. "I got to go water rafting with the kids one day. That's something this old gray-haired lady always wanted to do, but never got around to."
The kids asked her if she wanted to go rappelling, but she declined. She was the only driver, she said, and someone needed to bring the kids home safe.
Copyright 2018 The Lawrence Journal-World. All rights reserved. This material may not be published, broadcast, rewritten or redistributed. We strive to uphold our values for every story published.