Singapore — With its sales lagging behind Airbus, Boeing Co. is confident its newest 777 model will help it catch up to its archrival in the high-stakes battle for long-range jet supremacy.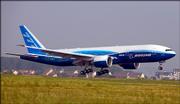 The new 777-200LR Worldliner is designed to compete directly with the popular Airbus 340-500, which has a flight range of 10,380 miles.
"Airbus had an advantage to sell that kind of airplane without any competitor at the time," Lars Anderson, vice president of Boeing's 777 program, said Friday, while on a 20-city tour around the world pitching the new jet.
Boeing says its plane has several advantages over its Airbus competitor: It claims to use 20 percent less fuel and can carry more passengers and up to 11 tons more cargo.
Still, the first delivery of the 777-200LR, to Pakistan International Airlines, isn't until 2006. Already, 18 A340-500s are in use by some of the world's biggest carriers like Singapore Airlines Ltd. and Hong Kong-based Cathay Pacific.
The 777-200LR carries 301 passengers in a three-class configuration. The A340-500 carries 280.
Both Boeing and Airbus claim their planes are the world's longest-range airliners.
Copyright 2018 The Associated Press. All rights reserved. This material may not be published, broadcast, rewritten or redistributed. We strive to uphold our values for every story published.