St. Andrews, Scotland — They leaned out of store-top windows, crammed onto hotel balconies and filled every inch of space along the 18th hole at St. Andrews to witness a historic moment at the home of golf.
First came the farewell of Jack Nicklaus, the greatest champion the game has known, ending his competitive career Friday by missing the cut at the British Open. Before the tears could dry, Tiger Woods re-emerged as the dominant force he was five years ago by ripping apart the Old Course to build a four-shot lead.
And so the torch was passed, just as it was when Nicklaus bowed out of the U.S. Open, PGA Championship and Masters, all of those won by Woods.
Nicklaus at least went out on his own terms. Determined to finish with a birdie, he struck his signature pose - putter raised in his left hand - when the 15-foot putt curled into the right side of the cup.
"I knew that hole would move wherever I hit it," Nicklaus said.
Thirty minutes later, Woods saved par from the Valley of Sin to polish off a bogey-free round of 5-under 67 that gave him his largest 36-hole lead at a major since his magical run in 2000.
"I still have to take care of my own business, and that's a lot out here on this golf course," Woods said. "You have enough issues out there to worry about."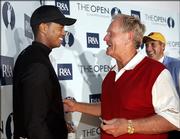 Nicklaus and Woods finally met in the interview room - fittingly, as the Golden Bear was leaving.
"Nice playing," Nicklaus told him, extending his right hand.
"Thank you, sir," Woods replied as they shook.
"You know, that's my best round of the year!" Nicklaus said proudly. "And I still didn't make the cut."
But he sure got an emotional sendoff on a mostly sunny, crisp afternoon at St. Andrews.
It started on the first hole, when the packed grandstand along the right side of the fairway rose and applauded as Nicklaus walked by in an argyle sweater, similar to the one he wore in 1978 when he won at St. Andrews. It traveled around the Old Course until he got the loudest cheer of all - when he strode atop the Swilcan Bridge.
"You saw the greatest player who has ever played the game come up the 18th hole," five-time Open champ Tom Watson said.
The birdie gave him an even-par 72, and he finished at 147 to miss the cut by two shots.
It was his 164th major championship, and it was in these Grand Slam events that Nicklaus defined the modern standard for greatness. He won 18 professional majors, and even more staggering was his 19 times as the runner-up.
British glance
¢ Leading: Tiger Woods, who added a 5 under 67 to the 66 he shot a day earlier. ¢ Trailing: Colin Montgomerie was four shots back at 137; seven players were tied at 136. ¢ Goodbye Jack: Jack Nicklaus made an emotional departure from competition, and he did it on his terms. Nicklaus, in his 164th major championship, rolled in a birdie putt on the 18th hole to the delight of thousands who gathered to watch his last round of even par 72. ¢ Noteworthy: The last two Open champions, Todd Hamilton and Ben Curtis, missed the cut. Both finished at 148, three shots off the cut.
"He's been the benchmark for every player that's ever played the game, at least in my generation," said Woods, who already is halfway to Nicklaus' record and looks as though he might get his 10th major this week.
Woods, who was at 11-under 133 after wasting birdie chances on his last two holes, will play in the final pairing today with Colin Montgomerie. The Scot got the second-loudest cheers as he birdied three of his final five holes for a 67 that put him at 137.
All he can do now is hope.
"A lot can happen around here," Montgomerie said. "We have a number of bounces that can go either way over the next couple of days. But in saying that, if Tiger Woods plays the way Tiger Woods can play around this type of course, I would have to agree with a number of other players that second place is what we're doing."
Not everyone feels that way. The seven players at 6-under 138 included Vijay Singh, who missed several birdie chances inside 10 feet and felt his 69 was about as poor as he could have done. He certainly isn't about to concede the claret jug to Woods.
"Look at Retief at the U.S. Open," Singh said, referring to Retief Goosen blowing a three-shot lead in the final round by shooting 81.
Others at 138 included Brad Faxon, a throwback who came to Scotland for local qualifying and shot 66; and Jose Maria Olazabal, keeping his chances alive with an eagle through the Valley of Sin on the final hole to salvage a 70.
Ernie Els and Phil Mickelson tried to get back into the mix, each with a 67 that got them to 3-under 141. By the end of the day, they still were eight shots behind.
Copyright 2018 The Associated Press. All rights reserved. This material may not be published, broadcast, rewritten or redistributed. We strive to uphold our values for every story published.