Saturday's going to be a big day for First United Methodist Church, and the Rev. David Livingston's just glad to be a part of it.
"It's a once-in-a-lifetime opportunity for the church and for me. It's hard to imagine, as a pastor, having a career highlight that's going to surpass this," says Livingston, associate pastor of the church located at 946 Vt.
"We just finished celebrating our 150th anniversary. This development is the beginning of the next 150 years. It is almost as revolutionary for the church as our founding."
First United Methodist Church, established in 1854 and a presence on Vermont Street since 1890, will break ground Saturday on a new, 47-acre site that will serve as a second campus for the congregation.
The site is located at the southwest corner of the intersection of U.S. Highway 40 and Kansas Highway 10, just west of town.
The land was acquired in the fall of 2001 from the Catholic Archdiocese of Kansas City in Kansas for $1.7 million for a multiphase development project that will culminate, in the fall of 2006, in a facility called Celebration Center.
The church actually bought 67 acres, but its members later decided to form a limited liability company - Gateway West Land Holding Co. - that would allow them to share ownership of 20 of those acres, which could be sold to a business or real estate developer in the future.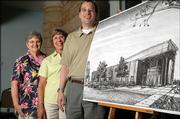 The remaining 47 acres will feature a 15,500-square-foot multipurpose building that can accommodate 400 people for worship, or be used for basketball or volleyball. The building will also have a nursery, a catering kitchen, five classrooms and a volunteer office, plus parking for 200 cars.
Outside, the campus will feature a baseball/soccer field, extensive walking trails, a playground, a 300-seat amphitheater, a patch of natural prairie and a wetlands area with a pond - all open to the public.
Livingston, who has guided the project for the past two years, estimated the cost of the first phase of development at the site at $4 million.
The groundbreaking at the campus will be at 10 a.m. Saturday. The community is welcome to attend.
Cutting-edge of trend
With this project on Lawrence's west side, the 1,600-member church will join a handful of United Methodist churches across the country that are on the denomination's growth and development plans.
An emphasis on the new second-campus model of church expansion, in which congregations maintain their current sites and add second locations to make room for growing ministries, is seen by United Methodist Church officials as the way of the future.
If you go
¢ First United Methodist Church, 946 Vt., will break ground on its new, second campus - dubbed Celebration Center - at 10 a.m. Saturday at the site, located at the southwest corner of the intersection of U.S. Highway 40 and Kansas Highway 10. ¢ The event is open to the community, no reservations are required and parking is available at the site, which can be accessed by U.S. Highway 40. ¢ There will be Scripture readings, a blessing on the project, and then all participants will have the opportunity to turn a shovelful of dirt. ¢ Participants are encouraged to bring a lawn chair and bug spray. Tents will be set up to provide shade. ¢ For more information, contact the church office at 841-7500.
The Kansas East Conference of the United Methodist Church made a gift of $750,000 to the church to go toward purchase of the land in 2001.
The conference covers the eastern third of the state, encompassing 75,000 members and more than 300 churches.
With the creation of Celebration Center, First United Methodist Church will become only the second United Methodist church in Kansas to adopt the "one church, two campus" model.
The other is Grace United Methodist Church, of Olathe, which turned its existing building into a missions center and built a second site for worship and church offices.
Other United Methodist congregations that have undertaken the second-campus approach to growth are in Houston, Goshen, Ind., and Springfield, Ill.
First United Methodist Church's offices will remain downtown, in its landmark, 110-year-old limestone building. But staff members will work at both sites.
Complementary sites
Livingston explains the reasoning behind Celebration Center's creation.
"Part of it is that we want to be where people are. Of the four United Methodist churches in town, we are the farthest west of them, and we're on Vermont Street," he says. "So we need a United Methodist presence on that (west) side of town."
The new facility and the current one will work together as two parts of a whole, each contributing special attributes.
"We have resources downtown that we will never have in west Lawrence. But there are things that can happen at Celebration Center that will never happen downtown, such as a soccer field, walking trails, a multipurpose room, a pond - all of those things," Livingston says.
"There is essentially no duplication, besides classrooms and meeting rooms. The two sites are completely complementary."
Of course, a big reason for building Celebration Center, where there will be regular Sunday worship services in addition to those in the downtown church, is to attract new members.
"The experience of churches who have multiple sites see membership and attendance increases at both sites," Livingston says. "That would be our hope."
Copyright 2018 The Lawrence Journal-World. All rights reserved. This material may not be published, broadcast, rewritten or redistributed. We strive to uphold our values for every story published.