London — British and FBI officials investigating an al-Qaida connection in the London terrorist attacks focused Thursday on an Egyptian-born chemist who studied in the United States and an 18-year-old Briton of Pakistani descent believed to have set off the bomb aboard a red double-decker bus.
Security forces in camouflage searched the Beeston area of the northern city of Leeds as police tried to crack the network thought to have given the dead suspects planning, logistical and bomb-making support.
"We don't know if there is a fifth man, or a sixth man, a seventh man, or an eighth man," London's Metropolitan Police Commissioner Sir Ian Blair told foreign journalists.
"Al-Qaida is not an organization. Al-Qaida is a way of working ... but this has the hallmarks of that approach," Blair said of the attacks, which killed 54 people, including four bombers. "Al-Qaida clearly has the ability to provide training ... to provide expertise ... and I think that is what has occurred here."
British authorities were seeking a Pakistani Briton with possible ties to al-Qaida followers in the United States, news reports said. They said he may have organized the attacks and chosen the targets, leaving Britain the day before the July 7 bombings.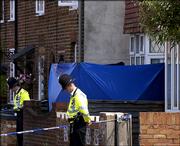 ABC News, citing unidentified officials, reported that the attacks were connected to an al-Qaida plot planned two years ago in Lahore, Pakistan. Names on a computer that authorities seized last year from Muhammad Naeem Noor Khan, an alleged Pakistani computer expert for al-Qaida, matched a suspected cell of young Britons of Pakistani origin, most of whom lived near Luton, where the alleged suicide bombers met up on their way to London shortly before last week's blasts, according to the report.
Authorities have now discovered ties between Mohammed Sidique Khan - one of the July 7 bombers - and members of that cell who were arrested last year, ABC said.
FBI agents in Raleigh, N.C., joined the search for the chemist, Magdy Asi el-Nashar, a 33-year-old former North Carolina State University graduate student. The doors were locked Thursday at the building at Leeds University where he recently taught chemistry.
And in a further international development in the inquiry, Jamaica's government said it was investigating a Jamaican-born Briton as one of the bombers.
Britain paid tribute Thursday to those killed in the attacks with two minutes of silence. Office workers spilled out into the streets, construction crews put down their tools and held hard hats in their hands and London's famous black cabs pulled to the side of the road.
Police officially identified two of the suicide bombers Thursday, Hussain and Shahzad Tanweer, 22, whom they say attacked a subway train between Liverpool Street and Aldgate stations.
Both were Britons of Pakistani ancestry, as was 30-year-old Mohammed Sidique Khan. Reports say the fourth attacker was Jamaican-born Briton Lindsey Germaine.
Copyright 2018 The Associated Press. All rights reserved. This material may not be published, broadcast, rewritten or redistributed. We strive to uphold our values for every story published.