Short of actually losing a child, there are few things more difficult for parents than having to nurse a child through a life-threatening illness such as cancer.
It's a pain that Matt and Kristi Toews, a Lawrence couple, know well.
Their son Carson, now 15 months old, was diagnosed with Stage 4S neuroblastoma - a type of cancer affecting children younger than 1 year old - on Aug. 23, 2004.
"The emotional hardships are something that will never go away," said Matt, 27, an MRI technologist at Lawrence Memorial Hospital.
"The emotions during the initial diagnosis were the most difficult to deal with. We ran through a range of emotions, from financial worries to accepting that Carson really did have cancer. While he was being diagnosed, we didn't know if he would even see his first birthday, and that is a very hard thought to rationalize."
It was hard financially, too, because Kristi, a speech pathologist, had to spend four months away from her job - from the day Carson was diagnosed until this past January - to take care of Carson.
"I don't think people realize how much time parents have to take off work when they have a kid with cancer. You have to be there for your children; they're not an adult that you can leave at the hospital," said Kristi, 29.
It's for families like the Toews that a local group, MOMS Club of Lawrence-North, is organizing a benefit concert Saturday featuring children's singer/songwriter Jim Cosgrove and his band, The Hiccups, at Free State High School's auditorium.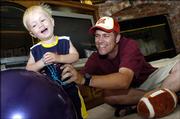 The proceeds will benefit The Erin Andra Wilson Foundation, which provides financial and emotional assistance to Kansas families who are caring for children with cancer and blood-related diseases.
Issue hits close to home
Saturday will be the second time MOMS Club of Lawrence-North - a support network designed for at-home mothers - has organized a benefit concert featuring Cosgrove, who lives in Prairie Village.
MOMS Club stands for Moms Offering Moms Support. There are two chapters in Lawrence, North and South, each with about 40 active members. Kristi Toews belongs to the South chapter.
An important part of the mission for MOMS Club chapters is to organize at least one philanthropic or community service project each year to benefit children.
Past Event
When: Saturday, July 16, 2005, 10 a.m.
Where: Free State High School, 4700 Overland Drive, Lawrence
Cost: $5
-->
-->
Both Lawrence chapters have had members whose young children had cancer, sparking an interest in doing cancer-related benefit projects, according to Barb Novorr, immediate past president of the North chapter.
Last year's concert sold out at the Lawrence Arts Center, filling 300 seats and raising around $2,000 for The Erin Andra Wilson Foundation, based in Overland Park.
This year's venue offers a bigger challenge: Free State's auditorium seats 925 people.
"I would be hopeful that we could sell at least 500 tickets. I'd like to sell more tickets than last year and get more cancer awareness out there," Novorr said.
Popular among younger set
This year's Cosgrove concert is going to be bigger and better than the first one.
"He was so overwhelmed and was just so pleased with the turnout, he suggested bringing his band, The Hiccups, with him this year," Novorr said.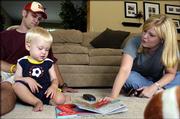 Cosgrove's sidekick, a giant dinosaur, also will be present, and participants can buy the entertainer's videos and T-shirts at a "Dino Shop." Ten percent of the sales of these items will go to the Overland Park foundation.
There also will be a silent auction featuring items such as a family package at Great Wolf Lodge; a family membership to the Lawrence Athletic Club; a catered dinner for eight; tickets to Kansas University men's basketball games; and a professional painting of one room, plus a two-hour interior design consultation.
Cosgrove is a big hit among children, according to Novorr.
"I'd say most kids probably 2 to 10 love him. My kids stand and pretend they're Jim and sing his songs. They just think he's funnier than anything. This year, he was part of the White House Easter egg roll. He's gotten pretty big," she said.
As for Carson Toews, he's doing well these days.
"He has monthly appointments with his oncologist. There's very little chance of the cancer coming back," Kristi said. "We feel very lucky."
Copyright 2018 The Lawrence Journal-World. All rights reserved. This material may not be published, broadcast, rewritten or redistributed. We strive to uphold our values for every story published.