Baghdad, Iraq — Iraqi troops are ready to take control of some cities as a first step toward sending home American and other foreign soldiers, Iraq's prime minister said Tuesday. But he rejected any timetable for a pullout.
Underscoring the ongoing security crisis, gunmen killed four Iraqi human rights activists in Baghdad, a car bomb killed at least three people in the northern city of Kirkuk, and a U.S. soldier died of wounds suffered in a land mine explosion.
Prime Minister Ibrahim al-Jaafari warned against setting a timetable for foreign troops to leave "at a time when we are not ready" to confront the insurgents.
But he said security in many of Iraq's 18 provinces - notably in the Shiite south and the Kurdish-controlled north - has improved so that Iraqi forces could assume the burden of maintaining order in cities there.
"We can begin with the process of withdrawing multinational forces from these cities to outside the city as a first step that encourages setting a timetable for the withdrawal process," al-Jaafari said at a news conference with U.S. Deputy Secretary of State Robert Zoellick.
"We don't want to be surprised by a decision to withdraw at a time when we are not ready," he said.
Al-Jaafari's comments were aimed partly at defusing growing calls by Sunni Arabs and others for the Americans to set a date to leave Iraq. The prime minister, a Shiite, told parliament Tuesday that he wants any withdrawal plan to be "an Iraqi decision with an Iraqi timetable - not with a terror timetable."
He did not specify which cities could be turned over to the Iraqis. The insurgency is focused in Baghdad and the Sunni Arab heartland of central and northern Iraq. Wide areas of the Shiite south and Kurdish north are relatively peaceful.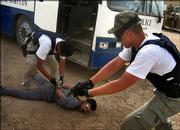 Most of the 135,000 American troops are based in insurgent-infested areas deemed too dangerous to hand over to the Iraqis soon.
Zoellick said Washington was committed to supporting the new Iraqi leadership and that U.S. troop strength "will be based on the conditions by which the Iraqi forces are able to meet the effort to deal with the counterinsurgency."
However, the Defense Department wants to pull some troops out of Iraq next year, partly because the commitment is stretching the Army and Marine Corps perilously thin as casualties mount. U.S. commanders believe the presence of a large U.S. force is generating tacit support for anti-American violence.
Coalition forces in Baghdad have captured Abu Musab al-Zarqawi's top lieutenant in Baghdad, Abu Abd al-Aziz, Gen. Richard Myers, the chairman of the Joint Chiefs of Staff, said Tuesday on "The NewsHour with Jim Lehrer."
Myers said Abu Abd al-Aziz, also known as the Emir of Baghdad, was captured Monday. The U.S. Central Command in February described a man with the same name as a foreign terrorist cell leader in Iraq and said a reward of $200,000 was offered his capture. Al-Aziz's age and nationality were not given.
Copyright 2018 The Associated Press. All rights reserved. This material may not be published, broadcast, rewritten or redistributed. We strive to uphold our values for every story published.