It's money that could be going toward food stamps or services for foster children.
But instead, the state's Department of Social and Rehabilitation Services will be spending $2.3 million in the next two years on increased tobacco education and enforcement as its penance for falling short of federal guidelines for limiting the sale of tobacco to minors.
"Those are funds that typically would have been allocated to direct services," said Kelly Peak, prevention team leader for SRS. "That's the reality. We're going to miss those dollars."
State leaders learned in recent months that they had fallen out of compliance with a federal law that penalizes states financially if they sell tobacco to too many minors.
For several years running, Kansas has had one of the worst track records nationwide for selling tobacco to minors. Between October 2002 and September 2003, for example, Kansas fared better than only the District of Columbia and Texas.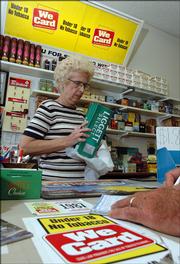 But last year, the numbers grew especially bad. Between October 2003 and September 2004, merchants who were checked for tobacco-law compliance in Kansas sold to minors 38 percent of the time - far above the target of 20 percent.
As a result, state leaders faced a choice: Lose $5 million in federal grant money this year that pays for substance abuse treatment and prevention, or cough up $2.3 million out of the state's budget in the next two years to address the problem.
No other states are currently out of compliance with the federal law, Peak said.
She said the $2.3 million would be taken out of fees paid by people who use SRS services. Uses for the money will include educational materials for merchants, training programs and increased enforcement throughout the state to keep businesses aware of the laws.
Peak, who has been in her job for 18 months, said administrative reorganization and changes in SRS leadership were some of the factors that caused the state to fall out of compliance. She said there was no "continuity" in the program in recent years and no comprehensive effort to address the problem.
As part of the campaign, the state has set up a Web site, www.itseverybodysbusiness.org.
In Lawrence, efforts will be coordinated by DCCCA, a substance-abuse treatment center. Jen Jordan, director of the agency's "Regional Prevention Center," said one aspect of the local campaign would be that all 91 retailers who sell cigarettes in the Lawrence area would each be visited four times in the coming months and reminded of the laws.
Peak said the money also could be used to pay for overtime for police officers who might otherwise be too busy to do tobacco enforcement. Under state law, businesses can be fined $1,000 for each sale to minors, and the clerk who makes the sale can be fined as well.
Shana Gollihar, district manager for the Wichita-based chain of Smoker Friendly stores, said none of her 13 stores has had a citation in the past three years. She said the business trains employees to check IDs thoroughly and requires them to pay the business' portion of the fine if they make an underage sale.
But she said some retailers flouted the law.
"In my opinion, it's lack of caring and greed," she said. "If you don't care who you're selling to, you're going to sell more and make more money."
Gollihar questioned whether more educational materials and training opportunities would cause businesses to start caring. But she said more enforcement probably would.
"You start shutting people down, and people are going to take notice," she said.
The state could be penalized again next year if numbers don't improve.
Copyright 2017 The Lawrence Journal-World. All rights reserved. This material may not be published, broadcast, rewritten or redistributed. We strive to uphold our values for every story published.